African Dream: Liberia's Charles Ananaba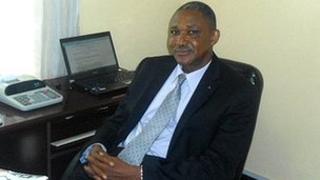 In Liberia, a country where security has been a big issue after years of conflict, Charles Ananaba's Omega Insurance Company has struck gold.
On the firm's website, they claim that they are the West African country's fastest growing underwriter.
They offer all sorts of policies, from accidents to marine and travel insurance, and have in their portfolio dozens of companies, including Kenya Airways.
"We are what I would call one of the newer companies on the block but we have made great strides over the past three years and I think we are pretty much situated as one of the larger commercial underwriters at the moment in Liberia," Mr Ananaba told the BBC's African Dream series.
Omega has been in operation since 2007, but Mr Ananaba has been in the insurance business for the last 20 years.
Before founding Omega with a capital of $500,000, he was involved in another insurance venture, Delta Holdings.
And previous to that he had studied criminology and law enforcement, and worked with the Liberia police force.
Times of war
He says that he actually got into insurance by chance.
"I had been retired from the police and I went to cash my last cheque because I was planning to go back to the States and read law but then the bank manager saw me on the floor and said he had read about my retirement in the newspaper and what was I planning," he recalls.
When he said he was considering going to the US, the bank manager asked him whether a job offer would make him change his mind.
The same day he was hired as an assistant manager in the claims department of an insurance company.
During Liberia's civil war the firm Mr Ananaba was working for managed to weather the storms.
"Delta was still functional. We had to close briefly when the city itself, Monrovia, was completely in a state of anarchy," he told the BBC's Kevin Mwachiro.
Although for a few months they could not work properly they still kept in touch with their customers.
"In fact I remember once one of the customers came under military escort to get me to go and do some inspections of his properties."
A sense of direction
Mr Ananaba told the BBC that what really kept him going during the war was that he had a sense of direction and purpose.
"I felt, you know, at all costs we must keep the company going and serving the customers and their businesses. They needed our service," he said.
"I looked at it as an opportunity to serve and also, at the time, make money," he added.
Given his experiences, what advice would he give business people who are struggling to move forward?
"I would say, stay the course, stay true to your business and try to be innovative, produce the best product, with dedication and focus and honesty," Mr Ananaba said.
In his opinion, his belief in God "to come in when all was crumbling" gave him the extra push he needed.
"Offer your best, give your best, and with God above you, you know, you must succeed somehow," he concluded.
African Dream is broadcast on the BBC Network Africa programme every Monday morning.
Every week, one successful business man or woman will explain how they started off and what others could learn from them.