DR Congo soldiers 'captured in Tanzania chasing rebels'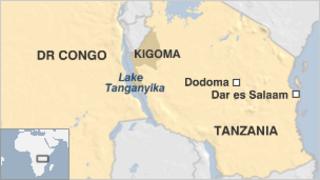 More than 20 Congolese soldiers have been detained in Tanzania for illegally entering the north-west of the country, Tanzania's army has said.
They said they were pursuing rebels from the Democratic Republic of Congo seeking medical treatment in Tanzania, Lt Col Emmanuel Mcheri said.
The heavily armed men were arrested after docking next to a police vessel at Kigoma port on Lake Tanganyika.
DR Congo's mineral-rich eastern region is plagued by rebel groups.
Lt Col Mcheri said the soldiers, who are still being questioned, were carrying 17 sub-machine guns, rocket-propelled grenades, pistols, hand grenades and three surface-to-air missiles used for shooting down planes.
"We might as well regard this as an invasion... They travelled all the way from the border to Kigoma Port without notifying us. We are detaining them until we get further information and directives from above," he told Tanzania's Citizen newspaper.
Local officials refused to comment on the matter.
Despite a peace deal in DR Congo in 2002, ending a brutal five-year civil war, there is still violence in the the east of the country.
UN peacekeeping troops have been backing efforts to defeat some militias operating in eastern DR Congo and to integrate other groups into the army.
Some 42,000 Congolese refugees are currently in Tanzania, having fled fighting in eastern DR Congo, according to the UN refugee agency.