South Sudan's oil production slumps since independence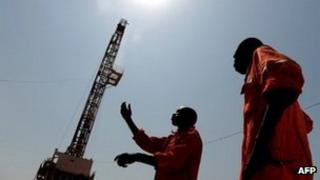 Oil production in one of South Sudan's states has fallen by a quarter since independence four months ago, a Unity state minister has told the BBC.
Since the split from the north there has been a shortage of skilled workers, Natural Resources Minister William Garjang said.
Unity state is one of South Sudan's main oil-producing regions.
Revenue from oil provides 98% of the new nation's budget.
South Sudan seceded from Sudan in July - the culmination of a peace deal signed in 2005 that ended decades of civil war.
The two countries have yet to agree on sharing their oil wealth.
The BBC's James Copnall in Bentiu, capital of Unity state, says there is growing concern about South Sudan's strong dependency on oil, particularly as the supply may run out in the next two or three decades.
Unrepaired wells
A rebellion waged by a new rebel group, the South Sudan Liberation Army (SSLA), has further complicated matters, he says.
Its fighters are concentrated in Unity state, near many of South Sudan's lucrative oil fields.
The SSLA took up arms earlier this year in protest against corruption, mismanagement of oil revenues and what it believes is the domination of the Dinka ethnic group in the government.
But Mr Garjang told the BBC the rebellion was not disrupting oil production.
A major problem was the absence of qualified technical personnel, as many northerners left the oilfields once South Sudan became independent, Mr Garjang said.
"We sent some southerners that were engineers. They were not that close to the oil field, but we sent them in order to bridge the gap. Meanwhile, they should be trained," Mr Garjang told the BBC.
"It is only the foreigners and a few southerners that are working, running the field."
He said sometimes there were not enough people to fill all the shifts and oil workers were working longer hours, which was dangerous.
Another problem was the rainy season, which made it difficult to get machinery to faulty oil facilities to repair them, he said.
"There are some wells that have problems and they need to be reworked by the service rigs, but they don't have access to the roads because that is a swamp area," Mr Garjang is quoted by the Reuters news agency as saying.
From 2005 until the secession in July, Sudan's oil revenues were shared between north and south.
Following the spilt, some 75% of the oil fields now lie in the south, but the pipelines flow north to the Red Sea port of Port Sudan
A new deal is expected to specify how much South Sudan will pay for using the north's pipelines, refineries and export terminal.