African migrants suffer after Gaddafi's fall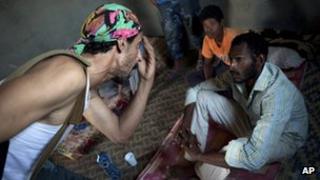 Thousands of black African migrants living in Libya have been forced to leave the country by this year's war. Their exodus has had a big economic impact on their families, writes the BBC's Thomas Fessy in Senegal's capital, Dakar.
Since he returned home, Moussa Gaye, 27, has been waiting.
It has been more than seven months now, and he still wanders around the poor suburb of Pikine, on the outskirts of Dakar looking for a job.
He expects the Senegalese government to help him find work or to allow him finish his studies.
He went to Libya in 2007 when he was offered a grant by Col Muammar Gaddafi's administration to study Arabic in Tripoli.
Everything was paid for - tuition fees, food, accommodation. Even his flight ticket from Dakar.
"I thought Libya was the ideal country," Mr Gaye says.
"I was told I could study and find a job there; and here it's too difficult".
He teaches Arabic twice a week at his grandfather's school.
"This is the school where I used to go as a kid. I do this to help them out - to kill time," he says.
On 'stand-by'
After years of privileged relations with Col Gaddafi's regime, thousands of black Africans in Libya were considered mercenaries by the former rebels who are now in power in Tripoli.
Many were ill-treated before they escaped. Some are still in Libyan jails accused of having helped defend the former ruler.
Most migrants left everything they had behind them and are now a burden for their family back home.
"The majority of migrants living in Libya were sending remittances, which were a huge income-generating for their family," explains Laura Lungarotti from the West Africa office of the International Organization for Migration (IOM).
The UN agency has organised most of the repatriations so far.
"Now that the migrants are back home, they're completely dependent on their families. It used to be the other way round: families were depending on them," she adds.
Pressure on relatives is even higher in Sahelian countries like Chad, Niger and Burkina Faso where food insecurity is already looming.
All these migrants are on stand-by. They don't know whether they can go back to Libya, whether they will ever be welcome again.
Trust 'damaged'
"The new Libyan authorities haven't shown any sign of interest for the rest of Africa yet," says Babacar Samb, a former Senegalese ambassador to Egypt.
He teaches Arabic and Arab-African relations at the University of Dakar.
"It will never be the same. Trust between the new rulers and African countries has really been damaged."
The money pumped into infrastructure and governments in Africa by Col Gaddafi's administration is still visible right across the continent.
But with the fall of the regime, African countries now wonder what will remain of Col Gaddafi's financial largesse.
Mr Gaye hopes that it will be easier for Senegal to deal with the National Transitional Council (NTC) than for others in Africa, especially Sahelien countries where Col Gaddafi had built up the strongest ties.
"Our president, Abdoulaye Wade, is the first to have recognised the NTC. He went to Benghazi in March without the African Union's consent," recalls Mr Gaye.
Mr Wade was once one of Col Gaddafi's strongest supporters when it came to pan-African politics.
Shortly after he came to power, he changed the constitution and had it include a clause saying the Senegalese were willing to see their sovereignty overtaken by that of a pan-African government.
After nearly two decades during which Senegal had severed diplomatic relations with Libya, President Wade expressed full support for the "United States of Africa" that Col Gaddafi was advocating.
Both leaders visited each other a number of times.
In 2007, Col Gaddafi came to Dakar to inaugurate the site of what was supposed to become the tallest tower in West Africa.
Retaliation fears
But the late Libyan leader never delivered.
Just opposite the port in central Dakar, the dusty abandoned site is now squatted by young men who come to play football.
Libyan petrol stations and banks are still opened in the Senegalese capital.
"This is the property of the Libyan state," says Mr Samb.
"The new Libyan authorities cannot just stop investments in Africa because those are Gaddafi's legacy."
On the way back from school to his home, Mr Gaye says he doesn't know whether Libyans are ready to accept black Africans back on their territory.
He would like to return to complete his thesis. But he fears retaliation.
Like all African migrants, he can only hope that the new Libya doesn't forget they belong to the same continent.