Malawi's dream team on how to rescue a company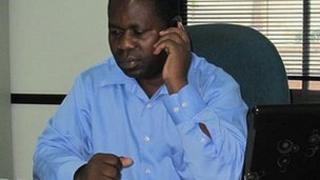 The worst thing that could happen to a building company is to collapse, and that is what fate seemed to have in store for Malawi's Plem Construction Ltd until the man at the helm decided to ask for help.
Flemmings Kapunda knew that the company was facing imminent liquidation and invited another entrepreneur to join forces and try to save it.
"Plem Construction started in 1996. It was actually started by my late brother. From 1996 we had had a lot of cash flow problems, and then eventually, in the year 2000, we decided to contact Mr Mohan Krishnan to at least maybe come in and team up with us," Mr Kapunda told the BBC series African Dream.
"At first he was reluctant to join us but he eventually accepted our offer. From the year we teamed up we actually saw some improvement because there was quite a lot of injection of the financial muscle and equipment which made us a successful company," he added.
The firm has built almost everything from office buildings and industrial warehouses to monuments, hospitals, schools and prisons across the country.
Mr Kapunda - who is charge of Plem Construction's operations - considers that Mr Krishnan's vision as the company's managing director, his ability to choose well-qualified staff and their team work were the main factors that contributed to their success.
Day and night
However, things are not always easy and sometimes they have to return to banks if they need a cash back-up.
"The reason is most of the projects, you'd find that they don't pay all the time so we cannot manage funding the whole project without getting any single payment," Mr Kapunta told the BBC's Joel Nkhoma.
His partner, Mr Krishnan, added that from the very beginning they approached bankers.
"Bankers actually supported us. I brought in a company from abroad who also invested in the company, and together there was enough liquidity to buy sufficient equipment," he said.
"We have worked day and night in the last 10 years to make this company grow," he pointed out.
Mr Krishnan proudly explained that when he joined Plem Construction its annual turnover was about $100,000 (£63,500) and it has now grown to approximately $25m.
What does he advise young people who may want to go into business?
"If you have a strong mind to succeed in life, I'm pretty sure that you can succeed. Many people make a simple mistake - that people want to make money. And to make money, when that becomes a priority, things go wrong," he said.
"My philosophy is that you should always try to succeed in life. 'Succeed' means if you take up a project, for example, we must finish the project. You cannot look at money issues there. When you succeed, money will follow you."
African Dream is broadcast on the BBC Network Africa programme every Monday morning.
Every week, one successful business man or woman will explain how they started off and what others could learn from them.