DR Congo voting extended in some areas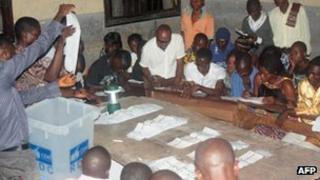 Polling has been extended into a second day in parts of the Democratic Republic of Congo where voting did not take place on Monday.
Election officials say the extension affects at least 400 of the vast country's 63,000 polling stations.
As well as long delays, the vote was hit by violence with polling stations attacked by armed men and angry voters.
It is the second elections since the end of civil war eight years ago, in which four million people died.
Both President Joseph Kabila, 40, who has been in power for 10 years, and veteran opposition leader Etienne Tshisekedi, 78, said they were confident of victory.
Mr Tshisekedi has accused Mr Kabila of planning to rig the election.
'Stay calm'
Votes have been counted in some polling stations, but final results are not expected for several days.
The BBC's Thomas Hubert in the capital, Kinshasa, says election officials are only now starting to organise the transport of these results to regional tallying centres, where provisional results can be announced.
After decades of conflict and mismanagement, DR Congo, a country two-thirds the size of Western Europe, has hardly any functioning transport infrastructure such as roads or railways.
The UN peacekeeping mission is using its helicopters to deliver voting materials to areas which have not yet voted, such as the central Bandundu province, reports the Reuters news agency.
There had been calls for the vote to be postponed but on the eve of polling, the head of the election commission said everything was 99% in place.
There were reports of lengthy delays at polling stations on Monday, with some voters telling the BBC they were unable to cast their ballots either because they could not find their names on the electoral register or because someone had already voted in their place.
Election commission spokesman Matthieu Mpita said voting would take place on Tuesday in at least 400 polling stations across the country but that the polls could also be extended in other areas.
"Voters at polling stations that never received ballots and which have not yet opened should await the delivery of the materials," he is quoted by the AP news agency as saying.
"Voters that are at sites where ballots ran out and where the vote had to be interrupted for whatever reason are asked to stay calm and await further instructions."
Our correspondent says many people who were unable to cast their ballots are angry.
Some European Union election observers were withdrawn from polling stations on Monday for their own security, Reuters says.
At least four people died after armed men - suspected to belong to a secessionist movement - attacked two polling stations in the southern mining city of Lubumbashi, a stronghold of Mr Kabila.
In the opposition stronghold of West Kasai, 15 polling stations were reportedly set on fire by voters angry at long delays. In the same province, there were unconfirmed reports of ballot boxes being full as polling opened.
'Fraud'
A heavy police presence helped ensure that Kinshasa was generally peaceful on Monday, but after nightfall, there were numerous reports of shooting.
The BBC's Will Ross says representatives from several opposition parties were not allowed to witness the counting of ballot papers in one polling station he visited.
In other parts of the country, the governing party accused the opposition of fraud.
Unless people perceive the process to be free and fair, there is a danger this election will not pass off smoothly and with both candidates saying they are confident of victory, that stance could fuel the tension, says Will Ross.
In the eastern city of Goma, Cindy McCain, the wife of United States Senator John McCain, is leading a delegation of poll watchers.
She said that in one polling station, they found ballot boxes were already a third full when they arrived at dawn, according to AP.
About 19,000 UN peacekeepers are stationed around the country - they are expected to help prevent any outbreaks of violence.
As well as the 11 presidential candidates, more than 18,000 are vying for seats in the 500-member parliament.
In some areas, the ballot paper ran to several pages and resembles a newspaper because there are so many parliamentary candidates.
This is likely to have caused some confusion in a country where one-third of adults cannot read or write.
The 2006 last election was marred by weeks of street battles led by supporters of the losing candidate, Jean-Pierre Bemba.
A former rebel leader, he is now on trial for alleged war crimes at the International Criminal Court in The Hague.
Inside DR Congo
The Democratic Republic of Congo covers 2,344,858 square km of land in the centre of Africa, making it the 12th largest country in the world.
Eastern DR Congo is awash with a variety of different rebel groups – some have come from neighbouring countries, while others have formed as self-defence groups. Many are taking advantage of the lack of a strong state to seize control of the area's mineral riches.
DR Congo has abundant mineral wealth. It has more than 70% of the world's coltan, used to make vital components of mobile phones, 30% of the planet's diamond reserves and vast deposits of cobalt, copper and bauxite. This wealth however has attracted looters and fuelled the country's civil war.
Despite the country's size, transport infrastructure is very poor. Of 153,497km of roads, only 2,794km are paved. There are around 4,000 km of railways but much is narrow-gauge track and in poor condition. Waterways are vital to transport goods but journeys can take months to complete. Overcrowded boats frequently capsize, while DR Congo has more plane crashes than any other country.
With an estimated population of 71 million, DR Congo is the fourth most populous country in Africa. Some 35% of the population live in cities and the capital Kinshasa is by far the largest, with more than 8 million inhabitants. DR Congo has around 200 ethnic identities with the majority of people belonging to the Kongo, Luba and Mongo groups.
Given its size and resources DR Congo should be a prosperous country, but years of war, corruption and economic mismanagement have left it desperately poor. In 2011 it lags far behind in many key development indicators, with average life expectancy increasing by only 2 years since 1980, after a period when it actually fell during the mid 1990s.