Zimbabwe's Tsvangirai 'cancels' second marriage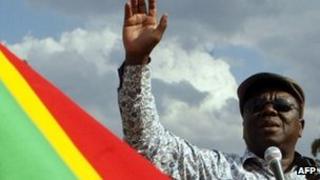 Zimbabwe's Prime Minister Morgan Tsvangirai says his relationship with businesswoman Locadia Tembo has ended, days after he paid a bride price.
Mr Tsvangirai said their relationship had been "irretrievably damaged" after it was "hijacked" by political opponents.
His representatives paid a bride price of several thousand dollars and cattle at a ceremony on 18 November.
Mr Tsvangirai is in a coalition with his rival, President Robert Mugabe.
In a statement, Mr Tsvangirai, 59, said he doubted he would have a "perfect union" with the 39-year-old Ms Tembo, a commodity trader and sister of an MP in Mr Mugabe's Zanu-PF party
"The 'marriage' has been hijacked and there is an apparent active political hand that is now driving the processes," he said in a statement.
"State security agents have also weighed in to force and direct proceedings which has resulted in everything regarding this relationship now taking place on camera, with public media journalists in tow."
Mr Tsvangirai's first wife, Susan, died in a car crash soon after he became prime minister.
'Thicker plot'
Mr Tsvangirai denied media reports that he had been present at the traditional ceremony on 18 November in Christon Bank, about 25km (15 miles) north of Harare.
He had been at his office and had sent a delegation to Ms Tembo's family home to "formalise" the relationship, he said.
"I have become a spectator in this relationship and things are happening too fast, on camera and without my knowledge," Mr Tsvangirai added.
"This has led me to conclude that there is a greater and thicker plot around this issue which has undermined my confidence in this relationship."
Mr Tsvangirai said he had informed Ms Tembo's family of the breakdown in their relationship.
"Reputations have been bruised and mutual trust... has been lost," he said.
"This relationship has been irretrievably damaged to a point where marriage is now inconceivable."
Tension between Mr Tsvangirai's Movement for Democratic Change (MDC) party and Zanu-PF has been growing ahead of elections, expected next year.
The two parties have been in a coalition government since 2009, following elections marred by violence and allegations of vote-rigging.
Mr Tsvangirai boycotted a run-off vote, claiming he had been cheated out of victory in the first round.
He and Mr Mugabe agreed to form a power-sharing government following mediation by regional leaders.
Many Zimbabweans refuse to marry in November, believing it would bring bad luck.