Sudan 'stealing oil' from South - Pagan Amum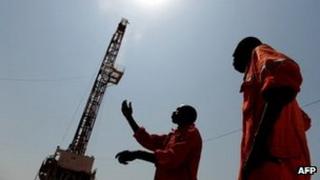 South Sudan has accused Khartoum of stealing its oil amid a row about how to split revenues after southern independence.
At least one million barrels of oil are reportedly being held in Port Sudan.
Sudan denies that exports are being halted but says it will take 23% of revenues until a final deal is reached on how to share out oil money.
South Sudan seceded in July, taking 75% of oil production, but this is exported through Sudan's territory.
China, a major buyer of oil from both countries, has urged them to resolve their differences but five days of negotiations in Ethiopia have failed to reach a deal.
The BBC's James Copnall in Khartoum says both economies are in real difficulty, so getting the best deal is vital, and any halt to oil exports will hit hard.
He adds that the emotions provoked by years of conflict, and South Sudan's secession, are still high, making coming to an agreement both are happy with particularly difficult.
On Monday, Sudan's oil ministry said it was halting exports from the south but its chief negotiator later said exports would continue but Sudan would take a 23% cut, backdated to July.
"We decided to take our dues in kind and that was misunderstood as that we stopped the export of oil of the South," Sabir Mohamed Hassan told the BBC's Focus on Africa programme.
But southern negotiator Pagan Amum accused Khartoum of stealing the oil and said anyone who bought it would face legal action.
"If the GOS [Government of Sudan] does steal South Sudan oil, or if others try to purchase the south's stolen oil from the GOS, the Republic of South Sudan will take all legal measures necessary," he said in a statement.
South Sudan has to export oil via the north because it has no port or refineries of its own.
Both Sudan and the South are reliant on their oil revenues, which account for 98% of South Sudan's budget. But the two countries cannot agree how to divide the oil wealth of the former united state. Some 75% of the oil lies in the South but all the pipelines run north. It is feared that disputes over oil could lead the two neighbours to return to war.
Although they were united for many years, the two Sudans were always very different. The great divide is visible even from space, as this Nasa satellite image shows. The northern states are a blanket of desert, broken only by the fertile Nile corridor. South Sudan is covered by green swathes of grassland, swamps and tropical forest.
Sudan's arid north is mainly home to Arabic-speaking Muslims. But in South Sudan there is no dominant culture. The Dinkas and the Nuers are the largest of more than 200 ethnic groups, each with its own languages and traditional beliefs, alongside Christianity and Islam.
The health inequalities in Sudan are illustrated by infant mortality rates. In South Sudan, one in 10 children die before their first birthday. Whereas in the more developed northern states, such as Gezira and White Nile, half of those children would be expected to survive.
The gulf in water resources between north and south is stark. In Khartoum, River Nile, and Gezira states, two-thirds of people have access to piped drinking water and pit latrines. In the south, boreholes and unprotected wells are the main drinking sources. More than 80% of southerners have no toilet facilities whatsoever.
Throughout the two Sudans, access to primary school education is strongly linked to household earnings. In the poorest parts of the south, less than 1% of children finish primary school. Whereas in the wealthier north, up to 50% of children complete primary level education.
Conflict and poverty are the main causes of food insecurity in both countries. In Sudan, many of the residents of war-affected Darfur and the border states of Blue Nile and South Kordofan, depend on food aid. The UN said about 2.8m people in South Sudan would require food aid in 2013. The northern states tend to be wealthier, more urbanised and less reliant on agriculture.