Simelane: South African court annuls Zuma prosecutor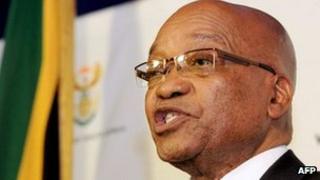 A South African court has ruled that President Jacob Zuma's appointment of Menzi Simelane as the country's chief prosecutor is invalid.
The court said there were unresolved questions about his integrity, as he had once given "untruthful" evidence.
The opposition Democratic Alliance (DA) had brought the case, arguing that Mr Simelane was an "acolyte" of Mr Zuma.
Mr Simelane would have protected "powerful" people from prosecution, it said.
Mr Zuma has previously denied these accusations, saying Mr Simelane was indeed a "fit and proper" person to hold such a job. He also argued that the judgement was for the president, rather than a court, to make.
Supreme Court of Appeals Judge Mahomed Navsa said the appointment of Mr Simelane as National Director of Public Prosecutions (NDPP) was unconstitutional.
"I accept that the president must have a multitude of daily duties and is a very busy man," he is quoted by Reuters news agency as saying.
"However, when he is dealing with an office as important as that of the NDPP, which is integral to the rule of law and to our success as a democracy, then time should be taken to get it right."
'Untruthful'
DA leader Helen Zille said the ruling was a victory for democracy.
She said Mr Zuma had made several controversial appointments recently - including that of chief justice.
"The purpose is to put a Zuma acolyte in every one of those key institutions which should be independent and the purpose of that is to ensure that those institutions, far from keeping powerful people accountable in the interest of the people, protect those powerful individuals," Ms Zille said.
The court ruled that Mr Simelane was unfit for office because he had given "misleading and untruthful evidence" when testifying to investigators looking into former chief prosecutor, Vusi Pikoli.
Mr Pikoli had brought corruption charges against Mr Zuma, before they were dropped in 2009 when Mr Zuma was about to take power. South Africa's president has always denied any wrongdoing in the case.
The decision was taken by another prosecutor, Mokotedi Mpshe, following Mr Pikoli's dismissal.
Mr Pikoli had also charged former police chief Jackie Selebi, who was sentenced to 15 years in prison last year for taking bribes from a drug dealer.
Analysts say there is growing concern that corruption and crime are becoming endemic in South Africa and recent measures by Mr Zuma - including the dismissal of government ministers and the appointment of a commission of inquiry into a controversial 1999 $5bn (£3.2bn) arms deal - has not dispelled perceptions that he is soft on corruption.
Mr Zuma's financial adviser, Schabir Shaik, was convicted of taking bribes from a French arms company in 2005.
Last week, South Africa's parliament passed a new protection of information bill, which critics said would make it a criminal offence to possess classified documents, such as those connected to the arms deal.
Mr Zuma's allies said the bill was needed to protect national security.