South Africa ex-police chief Jackie Selebi loses appeal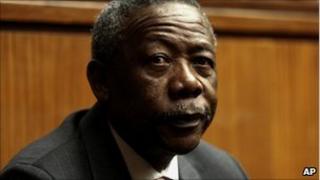 A court in South Africa has dismissed an appeal by ex-police chief Jackie Selebi against his conviction for taking bribes from a drug dealer.
Shortly after hearing the news, Selebi collapsed at home and was taken to hospital, his lawyer says.
Selebi, an ex-Interpol president, was supposed to report to serve his 15-year sentence within 48 hours.
Convicted dealer Glenn Agliotti paid Selebi 1.2m rand ($156,000; £103,000) to turn a blind eye to his business.
Selebi was a senior member of South Africa's ruling party, the African National Congress (ANC), and an ally of former President Thabo Mbeki.
He is the most senior official appointed by the country's government to have been convicted of corruption.
"I am satisfied the state proved the guilt of the appellant," Judge Kenneth Mthiyane said in his judgement.
"On all the evidence contained in 66 volumes amounting to more than 600 pages that we had to wade through in his application for appeal, we are satisfied that the high court was correct in finding that the applicant did receive payment from Agliotti," the judge said.
His lawyer Wynanda Coetzee told the Sapa news agency that he was "not doing well" after collapsing.
"We are very worried... he can't walk," she said.
He missed the start of the appeal a month ago because he was in poor health.
When he was convicted in August 2010, the judge said Selebi had shown "complete contempt for the truth" and had "low moral fibre".
Government critics say that corruption is becoming a major problem in South Africa and that the ANC is not doing enough to stamp it out.
Selebi's successor, Gen Bheki Cele, was recently suspended over alleged unlawful property deals.
On Thursday, a South African court ruled that the appointment President Jacob Zuma made to the post of chief prosecutor was invalid, due to questions about the official's integrity.