Sudan 'takes rebel border camp' in South Kordofan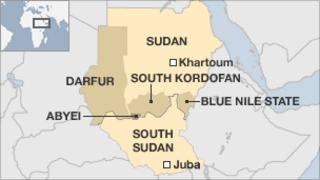 Sudan's military says it has captured a key rebel base in the embattled border state of South Kordofan.
A spokesman said soldiers had taken a camp belonging to the Sudan People's Liberation Army North (SPLA-N) - a claim denied by a rebel spokesman.
The SPLA-N fought for the creation of South Sudan during the country's civil war and was left in the north when the south gained independence in July.
Khartoum and Juba accuse each other of supporting rebels in the border areas.
South Kordofan is one of three areas along the loosely demarcated border which have been hit by conflict since July. The other areas are Abyei and Blue Nile.
'Not present'
The Sudanese army says it took control of the SPLA-N base on Saturday afternoon.
Army spokesman Sawarmi Khaled Saad told AFP news agency that there were casualties on both sides.
"This is a strategic area because it is the gateway to the south. The SPLA receive their weapons and ammunition and supplies through it," he said.
It is not possible to verify the army's claim independently because Sudan has banned journalists from the region.
According to Reuters news agency, SPLA-N spokesman in South Kordofan, Qamar Dalman, denied the group had soldiers in the area.
"Our troops aren't present in that area," he told Reuters.