South Africa ex-police chief Jackie Selebi jailed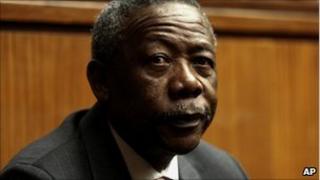 South Africa's ex-police chief Jackie Selebi has arrived in prison in a wheelchair to begin his 15-year jail sentence for corruption, reports say.
His lawyers had earlier failed in an attempt to delay the start of his jail term, citing his poor health.
On Friday, a court dismissed Selebi's appeal against his conviction for taking bribes from a drug dealer.
Selebi, a former Interpol president, collapsed afterwards and was admitted to hospital.
"I have been told that Selebi reported to Pretoria Central Prison accompanied by his lawyers and the investigating officer," national prosecutions spokesman Mthunzi Mhaga told the AFP news agency.
'Low moral fibre'
South Africa's privately owned television station, etv, reports that Selebi arrived in a wheelchair after being transferred from a private hospital in Pretoria.
The Supreme Court of Appeals last week upheld Selebi's conviction for taking bribes worth $156,000 (£103,000) from convicted drug dealer Glenn Agliotti to turn a blind eye to his business.
Selebi was a senior member of South Africa's ruling party, the African National Congress (ANC).
He is the most senior official appointed by the government to have been sentenced for corruption.
When he was convicted in August 2010, the judge said Selebi had shown "complete contempt for the truth" and had "low moral fibre".
Government critics say that corruption is becoming a major problem in South Africa and that the ANC is not doing enough to stamp it out.
Selebi's successor, Gen Bheki Cele, was recently suspended over alleged unlawful property deals.
On Thursday, a South African court ruled that the appointment President Jacob Zuma made to the post of chief prosecutor was invalid, because of questions about the official's integrity.