Libya authorities 'to disarm Tripoli by 31 December'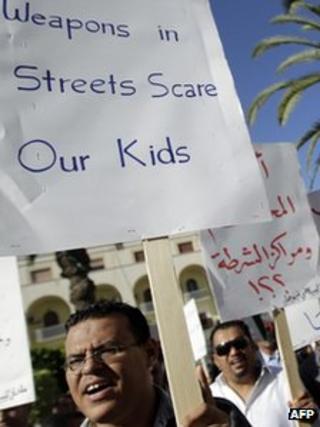 The head of Tripoli's council has said residents of the Libyan capital have until the end of the month to hand over their weapons to the authorities.
Abdul Rafik Bu Hajjar said he had been assured by the interim government that the entire city would be disarmed.
Brigades of revolutionary fighters from outside the capital would leave by 20 December, and the Tripoli brigade would be dissolved on 31 December, he added.
Earlier, residents blocked main roads in protest at their continued presence.
The capital was seized by forces loyal to the National Transitional Council (NTC) in August, triggering the downfall of Col Muammar Gaddafi's regime. Since then, however, rival groups of fighters have clashed repeatedly.
On Sunday, a former rebel was killed in Tripoli in a shootout with members of a brigade of fighters who were seeking the release of a comrade held by the security services on suspicion of murder.
Witnesses said they also forced their way into Tripoli's main courthouse and the office of Libya's attorney-general, Abdul Aziz al-Hasadi.
Mr Bu Hajjar said all armed individuals would have to join security forces under the ministries of defence or interior, or "return to civilian lives".
He also told the AFP news agency that there would be a rally in Tripoli's Martyr's Square on Wednesday "to denounce the presence of arms".