Ouattara orders Ivory Coast army back to barracks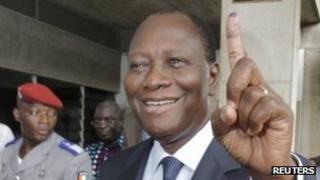 Ivory Coast President Alassane Ouattara is conducting a clampdown on military indiscipline.
He has given soldiers belonging to the newly formed army, the FRCI, 48 hours to return to their barracks. The army includes many former rebel fighters.
It follows violence at the weekend in the western town of Vavoua where rogue soldiers killed six youths.
The decision was made at a meeting on Monday evening between Mr Ouattara and his top military advisers.
Military patrols have also been banned for 48 hours. President Ouattara called for a zero-tolerance policy towards acts of violence.
Ivorian journalist Selay Kouassi says ordering soldiers back to their barracks is the first step towards conducting a census to establish who is a soldier and who is not.
He says many militiamen who helped Mr Ouattara overthrow his predecessor, Laurent Gbagbo, are not officially part of the army and have not been disarmed.
Some 3,000 people were killed in the fighting which followed the November 2010 election before Mr Gbagbo was detained by pro-Ouattara forces, backed by the UN and France, in April.
The former president is awaiting trial on charges of crimes against humanity at the ICC, where he was transferred last month.
He is accused of being an "indirect co-perpetrator" of murder, rape, persecution and other inhuman acts after he refused to accept his election defeat.
Mr Gbagbo is the first former head of state to face trial at the ICC.