Burkina Faso customs chief fired over $4m cash find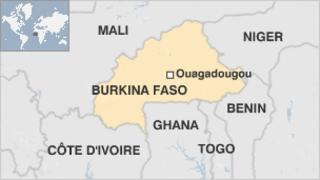 The head of customs in Burkina Faso has been fired after suitcases reportedly belonging to him were seized containing nearly $4m (£2.5m).
President Blaise Compaore issued a decree "ending" the services of Ousmane Guiro, AFP news agency reports.
Police said the suitcases were found at a house in the capital Ouagadougou and traced back to Mr Guiro.
Unnamed sources told AFP that Mr Guiro is currently being questioned over the cash.
"We nabbed people carrying suitcases packed with cash," one official told AFP.
"There were close to 2bn CFA francs ($4m) in there. The gendarmerie investigated to find out who the owner was, and it turned out it's... Ousmane Guiro."
Burkina Faso's customs department has been denounced as the most corrupt service in the West African nation by independent anti-corruption network REN-LAC.