From the Wild Coast to New Year advice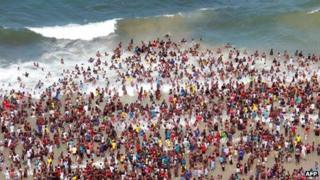 I have just got back from a few days on South Africa's Wild Coast - a remote stretch of spectacular coastline about four hours' drive south of Durban.
I will not bore you with the holiday snaps, but here are a few random reflections before I race off to Bloemfontein for the governing African National Congress's upcoming centenary celebrations.
This is a preposterously beautiful country. There is no better way to remind yourself of that than to drive for almost 2,000km (1242 miles) and watch South Africa flaunt its outrageous curves.
The people who moan about potholes on Johannesburg's radio phone-in programmes have no sense of perspective. We encountered one short stretch of bad road on our entire journey.
It was helpfully signposted "warning - potholes ahead".
Africa may still be infrastructure poor, but this country's road system is world class.
South Africa's drivers are not world class. In all, well over 1,000 people died on the roads here these holidays - about 39 a day.
It is a horrific statistic that hints at - among many factors - the widening wealth gap in a country where the poor are so often obliged to squeeze into speeding and over-crowded minibuses for long commutes.
We stayed in a small village at the bottom of a steep, wooded coastal escarpment. No internet, no 3G and the bare minimum of mobile phone reception. Bliss? I think this article has it about right.
On New Year's Day more than 1,000 locals made the trek down the escarpment from the nearest town of Lusikisiki.
It is an annual event - one gleeful crowd jumping in the waves, another playing football on the beach, and another idling in the lagoon. It was a wonderful way to welcome 2012.
Predictions about the year ahead coming soon, but in the meantime I would strongly recommend this blog, and urge you to check out the links to Mo Ibrahim's recent guest-editor role on BBC Radio 4's Today programme.
When it comes to Africa, his advice for a New Year's resolution seems pretty clear: "Be positive".