Kenyan senior judge Nancy Baraza in security guard row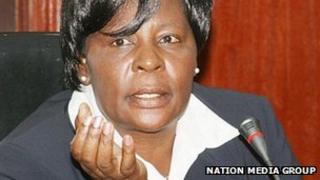 Kenya's deputy chief justice is facing a police investigation following claims that she threatened to shoot a security guard after refusing to be frisked.
The female guard said Nancy Baraza ignored the security desk at the entrance to an upmarket shopping mall in Nairobi and threatened to shoot her.
Security has been intensified in Kenya following its incursion into Somalia in October and attacks by Islamists.
Ms Baraza has declined to comment on the incident pending the inquiry.
According to a report to the police by the guard, Ms Baraza drove into the compound of the upmarket Westlands Trading Centre in Nairobi and parked her car 50m (54 yards) from the security desk at the entrance to the mall.
The guard said Ms Baraza ignored the security desk - at which all people entering the mall are frisked - before going to various shops.
The guard told the police that she told Ms Baraza that she was to be frisked but she walked away.
Things got out of hand, the report says, when the deputy chief justice finished her shopping.
She went to the car before coming back to the security guard and threatened to shoot her, the report says, if she persisted in what Ms Baraza is alleged to have termed as humiliating her.
'Unfortunate'
The Commissioner of Police, Mathew Iteere, has confirmed the investigation.
Ms Baraza has described the alleged incident as "unfortunate" but said she would not comment more since the matter was being investigated by the police.
Security has been tightened in all public places since Kenya invaded Somalia in October to kick out al-Qaeda linked al-Shabab fighters.
Kenya blamed the Somalia-based militants for bomb attacks and kidnappings.
There has been a string of recent attacks in Kenya, the latest one targeting New Year's Day revellers in Garissa, North Eastern Province, in which five people were killed.
It is now common practice in Kenya for people to be frisked or be scanned with metal detectors before they are allowed in shops, theatres and even places of prayer.