Malawi: Lilongwe's illegal vendors clash with police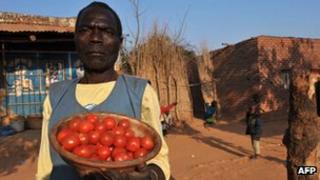 Some 30 people have been arrested after clashes between police and illegal street vendors on the streets of the Malawi capital Lilongwe.
Police had to fire tear gas and rubber bullets to disperse hundreds of vendors who went on an angry rampage after their stalls were dismantled.
Vehicles were stoned and several shops, mainly belonging to Chinese and Indian traders, were looted.
Calm was restored only after the army was called in.
The BBC's Raphael Tenthani in Malawi says police routinely move on Lilongwe's informal traders, who complain that their designated flea market is too far away and often set up their stalls in the busy streets of the central business district.
This time police were outnumbered and the vendors turned violent, throwing stones at officers, smashing up vehicles and looting nearby shops.
The Malawian owner of a clothes shop told the BBC her entire stock was stolen.
"I had over 200 men's suits... they are all gone. They have destroyed my life," she said.
Offices, banks and shops had to be closed and workers sent home early.
Malawi is one of the poorest countries in the world, with an estimated 75% of the population living on less than $1 (60p) a day.