Is Nigeria on the brink after north-south clashes?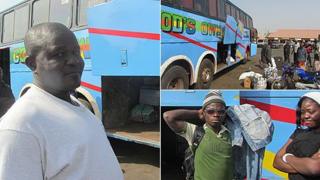 As thousands of Nigerians flee to their home regions following a spate of Islamist killings of southerners and revenge attacks on mosques and northerners, the BBC's Abdullahi Tasiu Abubakar considers whether the situation has parallels to the 1967 civil war, which left some one million people dead in Africa's biggest oil producer.
Ochenna Ike is an Igbo trader from south-eastern Nigeria who had relocated to the northern city of Yola in Adamawa state, where his business has been flourishing for the last four years.
But when masked gunmen shot dead 11 people in an attack on a church in Yola last Friday, Mr Ike decided that it was time to head back home.
On the same day as the church shooting, unknown gunmen killed 12 people, mostly southerners, in Mubi town - also in Adamawa state.
"With all these," he told the BBC, shortly after loading his goods into a coach at the Yola Motor Park on his way home, "there is no option but to pack and go back to my village."
Unfortunately for him, and others such as a young man and woman who wished to travel in the same vehicle, the coach was unable to move as a nationwide strike begun on Monday to protest at the removal of a fuel subsidy has affected inter-city transport across the country.
They hope to travel over the weekend, now that protests have been suspended for two days.
Following the killing of southerners and the warning from the Boko Haram Islamist sect which says it carried them out for all southerners to leave the north, there have been reports of reprisals against Muslims living in the south.
Tanimu Abu, a northerner who last week fled the southern town of Sapele in Delta state after youths attacked a mosque and Islamic schools and threatened northerners with death, considers himself lucky.
He had spent more than 10 years in the oil-rich Niger Delta working for a federal institution, he says, but had to run back home because he feared for his life.
A few days after his departure, five people were killed by unidentified youths who attacked another mosque in Benin City in neighbouring Edo state.
Some in the Nigerian media talk of a "massive exodus", but there is no evidence to show that the movement has yet reached a big scale.
The vast majority of Nigerians living in regions other than their birthplace have not run away - and apparently many have no intention of doing so.
Tony Ologbosere is an engineer of southern extraction who has been living and working in Yola for the past 30 years.
He told the BBC that he was not going anywhere, and even pleaded with those who are fleeing to rescind their decision.
"I have been living here for 30 years. This is where I raise my family; this is my home and I have no problem with anyone," he says.
'Double jeopardy'
Nigeria's 160 million people are roughly equally divided between a mainly Muslim north and a largely Christian and animist south and there is a long history of tensions between the two regions, as well as the country's many ethnic groups.
Many argue that the current movement of people is nowhere near the mass exodus witnessed in 1993 following the decision by the then-military regime of General Ibrahim Babangida, a northerner, to annul the presidential election presumed to have been won by a southerner, Moshood Abiola.
Nor is it on the scale of the 1960s crisis that led to the three years of brutal civil war in the country.
Still, some prominent Nigerians, mainly southerners - including President Goodluck Jonathan and head of the Christian Association of Nigeria Ayo Oritsejafor and even Nobel laureate Wole Soyinka - are drawing parallel between this crisis and the 1967 conflict.
"The situation we have in our hands is even worse than the civil war that we fought," President Jonathan said, alleging that members of Boko Haram have infiltrated even his government.
Pastor Oritsejafor said his members would do "whatever it takes" to defend themselves from the pattern of killings which suggested "systematic ethnic and religious cleansing".
Nigerians - both Muslims and Christians - take their religions very seriously.
In a 2004 survey by the BBC, Nigeria came out as the most religious country in the world with 90% of the population believing in God, praying regularly and affirming their readiness to die on behalf of their belief.
Professor Kyari Mohammed of Modibbo Adama University in Yola admits that the current situation represents a "very dangerous trend" and has a similarity with the opening phase of the 1967 civil war.
However, he says, the key difference is that Boko Haram is a fringe group fighting both the government and mainstream Muslims in northern Nigeria.
"The major problem is that there is a huge deficit in the understanding of the situation, particularly by the government, leading to its inability to address the problem," he notes.
"For an average northerner it is a double jeopardy. He is targeted [in the north] by the Boko Haram that does not believe in his version of Islam, and in the south by the people who feel that the attack by Boko Haram is an attack by Muslims."
What helps unite the country now, he says, is the commonality of economic hardship suffered by everyone in Nigeria.
Christians and Muslims, northerners and southerners, are marching side by side in the ongoing national strike against the removal of a fuel subsidy.
During the protests in some cities this week, Christians have formed human shields while Muslim prayed - and Muslims have responded in kind.