Economic 'winter' threatens Tunisia's spring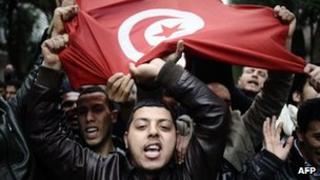 One year ago this weekend Tunisians overthrew the dictatorship of Zine al-Abidine Ben Ali in the first popular revolution of the Arab Spring. It was an uprising fuelled as much by the frustrations of the unemployed but as Wyre Davies reports from Tunis, the economic situation has not improved.
A year ago, the streets of Tunis were a battleground. Uniformed and plain-clothes police clashed with pro-democracy protesters.
Those were the dying days of a dictatorship that had ruled for 23 years.
Today the shackles of oppression have been discarded. People amble through the same streets with smiles on their faces - no longer having to whisper, for fear of who may be listening.
On the surface, at least, this is a much-changed country.
I sat in on a political discussion at Radio Kalima. It is no longer a channel based in exile, but has relocated to the Tunisian capital.
'Right direction'
In a country where journalists and dissenters were regularly beaten up or arrested, progress is slow. Siham Bensedrine is the station's editor-in-chief and was a former political prisoner under the old regime.
"In some ways the Arab Spring has become a winter", she says. "The old guard are still there, coexisting with the new - but, yes, I think that things are going in the right direction."
While there is general satisfaction with the conduct and turnout at constitutional elections in the autumn, some other aspects of life since the revolution are, arguably, worse.
That was certainly the view of the young people - many educated but unemployed - I met at a job centre in Tunis.
Long queues and very few good jobs available betray the harsh reality, that for many people, some things have not improved - even for well-educated graduates like Ahmed Matlouth, 28 years old and out of work for three years.
"Of course it's worse. I'm nearly 30 years old. I have a [university] degree but no job," he tells me ruefully. He, like many, blames corruption and continued nepotism for the lack of opportunity.
Empty beaches
The state of the Tunisian economy is a real concern because if things do not improve much of the revolution's good work could be undone.
Tourism, for example, is a critical part of the economy - by far the country's biggest foreign-currency earner.
But the beaches in Hammamet, and other top resorts, are empty where you would expect to find visitors from northern Europe soaking up the winter sun. Visitor numbers over the last year are down by almost half.
Horse and cart drivers roam the beachfront, looking for tourists who are not there.
"It's totally dead," says one driver, a family man with four children.
"Many of us have had to give up. You can't spend the whole day waiting for customers if there are no tourists."
Tunisia was at the vanguard of the Arab Spring. There are some political tensions as the moderate Islamic Enhadda Party heads an interim unity government, but keeping a grip on an uncertain economy may be key to the revolution's ultimate success or failure.