Hillary Clinton in Ivory Coast for talks with Ouattara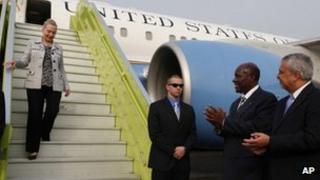 The American Secretary of State, Hillary Clinton, has arrived in Ivory Coast, on a visit intended to show US support for the country's reconciliation process.
She will meet President Alassane Ouattara, whom the US backed during a post-election confrontation with his rival Laurent Gbagbo last year.
Ivory Coast has stabilised quickly since Mr Gbagbo was arrested in April.
It is the first visit to the country by a US Secretary of State since 1986.
The discussions between Mrs Clinton and Mr Ouattara are also likely to include terrorism, drugs trafficking and piracy.
Mr Ouattara was the internationally recognised winner of presidential elections in Ivory Coast in 2010, but the incumbent Laurent Gbagbo refused to accept defeat and his forces blockaded Mr Ouattara in a hotel in the main city, Abidjan, for five months.
Clashes between their rival supporters are believed to have killed about 3,000 people and both sides were accused of widespread human rights violations.
Since Mr Ouattara took office, the United States has allowed Ivory Coast back into a preferential trade agreement for African countries and is supporting some rebuilding projects.
Mrs Clinton visited Liberia on the first day of her trip to West Africa to witness the swearing-in of Ellen Johnson Sirleaf for a second term as president.
She will travel on to Togo and Cape Verde after Ivory Coast.