Nigeria Boko Haram bomb suspect escapes from police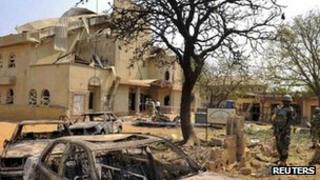 A key suspect in the Christmas Day bombing which killed more than 40 people in Nigeria has escaped from custody, police have admitted.
Kabiru Sokoto - believed to be a member of the Islamist sect Boko Haram - was arrested on Saturday in the capital Abuja after police trailed him.
But the very next day, he escaped as police attempted to search his house outside the capital.
A police commissioner has been arrested, police said in a statement.
It is a huge embarrassment for a nation struggling to contain an increasingly bloody campaign of violence blamed on Boko Haram, observers say.
Meanwhile, the security forces say they arrested six Boko Haram members on Tuesday in the north-eastern town of Maiduguri, where the group is mainly based.
Officials said the arrests came amid a raid in which two soldiers were killed.
'Pandemonium'
Authorities say Mr Sokoto planned the 25 December bombing of St Theresa Roman Catholic church in Madalla, just outside Abuja.
He was arrested on Saturday in Abuja at a lodge owned by the governor of Borno state, Kashim Shettima.
A spokesman for the governor has said there is no question of collaboration between the governor and Boko Haram.
"What we've heard is that this man is in that lodge perhaps to even harm the governor. One cannot be in governance and be collaborating with people who threaten the peace of your own region," Inuwa Bwala, Borno's commissioner of information, told the BBC's Focus on Africa programme.
"Our governor is completely insulated from any blame or from any type of relationship with these people."
The next day, the suspect was taken to his home just outside the capital, which police intended to search.
But youths surrounded the police cars and pandemonium broke out during which the suspect managed to escape, the BBC's Mark Lobel in Nigeria reports.
In a statement, police said Boko Haram members had attacked police escorting Mr Sokoto.
"The police view this development as a serious negligence on the part of the commissioner of police and have since queried and suspended him from duty," it added.
The commissioner was not identified.
This is either huge incompetence or worse on the part of the police, our correspondent says.
Mr Sokoto was the only major suspect to be arrested of late for involvement in the bloody attacks blamed on Boko Haram, which has stepped up its attacks over the last year.
The group started to stage drive-by shootings in 2010 on government targets in its base in Maiduguri, where some arrests were made on Tuesday.
"We have succeeded in arresting six high-profile members of Boko Haram in a raid on their hideout following useful information provided us by some residents," a commander of the security forces in the city, Victor Ebhaleme, told the AFP news agency.
Last year, Boko Haram carried out suicide bombings on high-profile targets such as the headquarters of the UN and the police in Abuja.
President Goodluck Jonathan has voiced concerns that members of Boko Haram have infiltrated government offices and security agencies.
Suspicion is now hovering that there may have been some kind of collusion between the police and Boko Haram, our correspondent says.
Reports suggest the group has been blamed for at least 74 killings this year alone.
The group, whose name means "Western education is forbidden", wants to establish Sharia (Islamic law) in Nigeria.
Nigeria, Africa's most populous nation with 160 million people, is divided between a largely Muslim north and a south where most people are Christians and some animists.
In a video recently posted on YouTube, Boko Haram's leader Abubakar Shekau defended recent attacks on Christians, saying they were revenge for killings of Muslims in several parts of northern Nigeria.
He said the group's primary targets remained the security forces, who he said had summarily executed their former leader Mohammed Yusuf after he was arrested in 2009.