Malawi floods: Helicopters sent to rescue villagers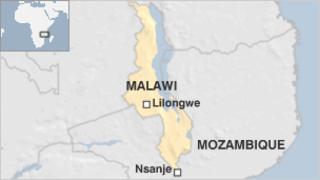 Army helicopters have been sent to rescue thousands of villagers trapped in flooded southern Malawi, local authorities say.
No deaths have been reported - but roads and bridges have been washed away and crops and livestock destroyed after rivers burst their banks.
Meteorologists warn the bad weather will continue for the next few days.
Neighbouring Mozambique has also been hit by several days of torrential rain - and at least 24 have died.
So far, 99 people have been moved to safety since the helicopter rescue operation started on Tuesday in the Nsanje area - which is in the southern most tip of Malawi.
Nsanje District Commissioner Rodney Simwaka told the BBC damage is "extensive" - with heavy rains falling since the middle of last week.
"About 2,500 villagers managed to flee to hills but several thousands are still marooned in dry patches of land in the flooded villages," Mr Simwaka said.
About 30 villages have been cut off after the Shire - Malawi's longest and biggest river - and the Ruo rivers overflowed.
Mr Simwaka says the government is handing out relief - including food and water purifying tablets - to up to 5,000 people who are taking shelter in schools and churches and the government
The BBC's Raphael Tenthani in Blantyre says Malawi's Shire Valley is prone to floods - but villagers refuse to move to higher ground because the soil is too rocky for agriculture.
In neighbouring Mozambique, state radio reported on Wednesday that two bodies were found in flood waters in the central province of Zambezia - bringing the total death toll to 24.