Niger: Charity warns of pending food crisis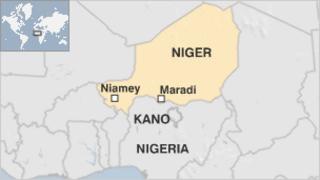 The opportunity to avert a major food crisis in the West African state of Niger is closing fast, Save the Children has warned.
The charity said six million people, half of them children, were at risk after a poor harvest led to food shortages and rising prices.
It has launched an appeal to raise £30m, warning the crisis could be as serious as the disaster in East Africa.
The country already has one of the world's worst child survival rates.
One in six children die under the age of five, with half of those deaths linked to malnutrition, the charity says.
Save the Children's humanitarian director Gareth Owen said: "The forecasts from Niger make for grim reading, and we know that children are always the first to suffer the deadly effects of hunger and malnutrition.
"If we act now we can prevent the needless deaths of thousands of children, but the window of opportunity to avert this crisis is closing fast.
"If we wait to act until children are dying, it will be far too late."
Instability in neighbouring countries has affected cross-border trade, so Niger is unable to import many food staples which it relies in times of shortage.
The BBC's Mike Wooldridge, in Niger, says the entire Sahel region in West Africa was at risk, but Niger was of particular concern because of the numbers involved.