Somalia hostages Buchanan and Thisted go home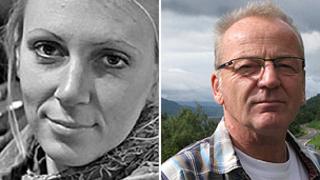 Poul Thisted, a Danish aid worker held hostage in Somalia for three months, has returned to Denmark.
He and his American colleague Jessica Buchanan were freed by US Navy Seals in central Somalia last week.
Ms Buchanan's father told ABC News that his daughter would be spending her first night back in the US on Tuesday.
The two aid workers were taken to a Nato base in Sicily after they were freed. Both were working for the Danish Refugee Council Demining Group.
The group said that Poul Thisted would not be speaking to the media.
The 60-year-old Dane said in a statement released on the group's website: "I am grateful for the prayers and support that I have received from everyone throughout this event; however, at this time, my top priority is spending time with my family."
"It is important that I remain focused on returning to my family and normal life without delay," he said.
In an interview with ABC News' Diane Sawyer, Ms Buchanan's father John said the 32-year-old was flying home to Pennsylvania on Tuesday.
He said that despite serious concerns over his daughter's health, she was doing very well:
"She's a really unique girl and she's strong and she's motivated and she's very resourceful and you know we're all just really proud of her that she came through this the way she did," he said.
"She's physically on the mend and psychologically she's just done great and she's in a good frame of mind."
Mr Buchanan said his daughter was a vegetarian who was "into natural food", and had subsisted on a diet of camel milk and goat meat during her captivity.
At the time of the raid, the two hostages were being kept about 40km (25 miles) east of the town of Adado and 100km (62 miles) south of Galkayo.
A US official said the Seals parachuted from a plane into an area near the compound where they were being held.
Nine of the kidnappers were killed in a shoot-out. The freed hostages and the Seals left the area by helicopter for a US base in Djibouti.