Lawyers for Charles Taylor want to re-open defence case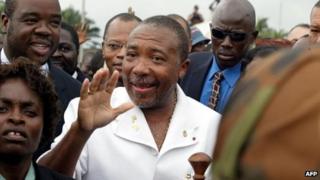 Lawyers for the former Liberian President Charles Taylor have asked to re-open the defence case at his war crimes trial.
Mr Taylor's lawyer Courtenay Griffiths told the BBC that a recent UN report into mercenary groups "creates major difficulties for the prosecution".
The trial at The Hague ended in March 2011, but the judges have yet to deliver their verdict.
Mr Taylor is accused of 11 charges of war crimes and crimes against humanity.
His trial, at the United Nations-backed Special Court for Sierra Leone, relates to his alleged role in the brutal civil war in Liberia's neighbour, where he is accused of backing rebels responsible for widespread atrocities
In an interview with Focus on Africa on the BBC World Service, Mr Griffiths said that the UN Security Council report "illustrates the central defence", which is that there were many Liberians fighting on both sides for personal gain in the war and they were not under Mr Taylor's control.
Mr Griffiths said the report presented a picture of "fluid groups of unemployed former combatants" who were roaming across the area causing problems - without there being a guiding hand such as Mr Taylor behind them.
Mr Taylor's legal team have asked the court for permission to introduce pages from the report as evidence for his defence.
Mr Griffiths denied that Mr Taylor's legal team were stalling in an effort to delay a verdict - and said that it was important for justice that all related evidence was before the court.
There has been no response from the court.
Charles Taylor denies the charges against him.