Somalia moves to evict Mogadishu squatters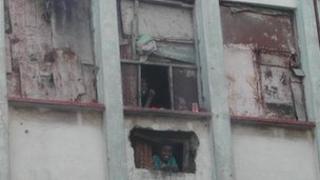 Somalia has started a major operation to remove tens of thousands of people who have been squatting in government buildings in the capital.
Mogadishu's mayor told the BBC that alternative housing was not being provided, as the squatters were able to pay rent to illegal landlords.
Many thousands of people are also living as refugees in the city, after fleeing conflict and drought.
The security situation in Mogadishu has improved over the past year.
The Islamist militant group al-Shabab group last year pulled out of the city but it continues to stage suicide attacks.
Last week, William Hague became the first British foreign secretary to visit Mogadishu since 1991 - the last time Somalia had a functioning national government.
Local aid agencies estimate that more than 50,000 people have been sheltering in ministry buildings, schools and universities - many of which have been badly damaged during the years of warfare.
One school had been used as a temporary camp for around 17,000 internally displaced people.
Mogadishu Mayor Mohamud Nur told BBC Somali that people were first being moved from buildings which the government had the money to rebuild.
Much of the funding for the operation has come from Turkey.
Mr Nur said that so far, people had left the buildings on a voluntary basis but that if they refused to move, force would be used.
President Sharif Sheikh Ahmed visited one of the sites to encourage people to leave.
"These are government offices where public services will be offered," he said, adding that the reconstruction would provide jobs.
Some residents, however, rejected his call to vacate the buildings, saying they had nowhere else to go.
Some 12,000 African Union troops are helping the government keep control of Mogadishu, while Kenyan and Ethiopian forces have pushed al-Shabab out of some other areas. It still dominates much of southern Somalia.
Somalia is also suffering from the worst drought to hit the region in 60 years, which has left thousands of people dead, according to the UN.
Last week, the UN declared that the country was no longer suffering from a famine.