Nigeria unrest: Blasts rock Kano and Maiduguri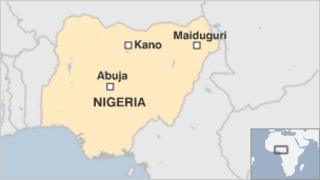 A police station has been hit by an explosion and attacked by gunmen in the flashpoint northern Nigerian city of Kano, injuring an officer.
Further east, at around the same time, witnesses spoke of hearing explosions in the market area of Maiduguri.
Suspicion for the attacks will fall on Islamist militant group Boko Haram.
Boko Haram is waging an insurgency in the region in a bid to try and overthrow the national government and install an Islamic state.
Kano saw a series of attacks last month that left more than 185 people dead.
'Plumes of smoke'
The attack on the police station in the Sharada district of Kano happened at just after 18:00 (17:00 GMT).
Gunmen carrying bombs had descended on the police station from different directions, Kano police spokesman Magaji Musa Maji'a told Reuters news agency.
"One policeman was shot on the leg and he is receiving treatment in hospital," he said.
Resident Bala Salisu told the AFP news agency he had just arrived home in time for a curfew when he heard a loud blast.
"Shortly, gunshots followed. From what I heard it sounded like a shoot-out," he said.
A Reuters reporter in the area said the explosion - so powerful it shook windows - was followed by a sustained gun battle which lasted more than an hour.
Magaji Musa Maji'a said that the police officers eventually got control of the station.
Meanwhile, in Maiduguri - Boko Haram's heartland - a series of explosions were heard in the market and black smoke was seen billowing from the area.
"I heard five explosions around the market and plumes of black smoke... filled the air," nearby resident Aisha Goni told AFP.
"The market is still on fire. Soldiers and policeman have taken over the whole area."