Nigeria unrest: 'Suicide attack' on Kaduna barracks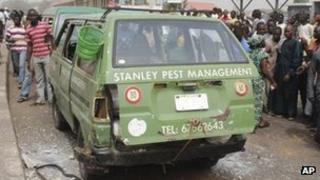 A man in military uniform has blown himself up outside a Nigerian army barracks in the city of Kaduna, amid reports of other blasts, officials say.
An army spokesman said soldiers shot the man but he still detonated the bomb in the car he was driving.
There has also been a blast at an air force base in the city, emergency workers say, while residents report a third explosion near a bridge.
Islamist militants have recently killed hundreds in northern Nigeria.
On Monday night, there were also exchanges of gunfire between security forces and suspected militants in Kano, another northern city.
The blast at the barracks occurred at the base of the 1st Mechanised Division of the Nigerian army in Kaduna.
"The suicide bomber was the only casualty," said army spokesman Maj Gen Raphael Isa.
But a military source told the BBC that he saw the dead bodies of five soldiers - and a BBC reporter in Kaduna said he had seen three ambulances leaving the barracks for the local hospital.
Boko Haram is waging an insurgency in the region to try and overthrow the national government and establish an Islamic state.
Kano saw multiple, co-ordinated attacks last month that left more than 185 people dead - the most deadly the group has carried out since it began its uprising in 2009.