British woman barred from leaving Egypt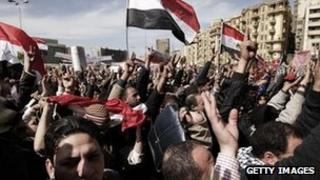 A British woman accused of stirring unrest has been arrested at Cairo International Airport and prevented from leaving Egypt.
The woman is apparently on a list of foreign nationals linked to non-profit groups suspected by the country's military rulers of causing trouble.
The woman, who has not been named, was taken off a plane bound for London on Friday.
The Foreign and Commonwealth Office said it was assisting the woman.
It is understood she worked at a US non-profit group accused of funding demonstrations in Egypt.
Last year Egypt's President Hosni Mubarak was ousted after weeks of demonstrations in Cairo's Tahrir Square.
He was replaced by a military government but recently demonstrators have returned to Tahrir Square to protest at what they perceive as the lack of progress towards democracy.
Forty-three pro-democracy activists, 19 of them Americans, are to be put on trial for setting up groups without licences and receiving illegal funding.
The US has threatened to withdraw foreign aid to Egypt unless the cases are dropped.
A Foreign Office spokesman said: "We are aware of the arrest and subsequent release of a British national at Cairo International Airport on February 10 and we are providing consular assistance."