Britain 'proud' of part played in Libyan revolution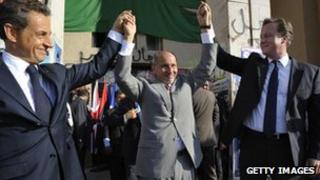 The UK government says it is proud of the role British armed forces played in overthrowing Colonel Gaddafi last year.
Prime Minister David Cameron was speaking on the anniversary of the start of the Libyan revolution.
He also said: "Britain shares the ambitions of Libyans for a stable, prosperous country based on fundamental freedoms and human rights."
Earlier, Foreign Secretary William Hague "reaffirmed UK commitment to supporting Libyans".
Libya's uprising, along with revolutions in Tunisia, Egypt, Bahrain and Syria, saw a so-called "Arab spring".
The uprising against Colonel Muammar Gaddafi began on 17 February 2011 on the streets of Benghazi.
Mr Cameron said: "It was a defining moment of the Arab spring and the Libyan people can be immensely proud of the inspiration they have given others around the world, as we are of our role in supporting them."
The prime minister added: "One year ago today, thousands of brave men and women took to the streets of Benghazi in a revolution which spread across Libya, bringing together different tribes, towns and cities to remove a brutal dictator and to return Libya to its people."
Gaddafi himself was killed in October in his home town of Sirte.
2,000 strike sorties
British aircraft carried out 3,000 missions - 2,000 of them strike sorties, about one fifth of the Nato total.
The Ministry of Defence says RAF Tornados and Typhoons, along with the Army's Apache ground attack helicopters, also successfully hit 640 military targets.
Mr Hague said: "Libyans across the whole country can be proud of how much they have achieved and the hope they have given to others around the world living under the oppression of brutal regimes.
"Tangible progress has already been made in the transition to a peaceful and stable country."
His comments come as Amnesty International warned that armed militias were threatening the security and stability of Libya.
"Libya's future is far brighter than it was a year ago, but there are challenges ahead," added Mr Hague.
In recent weeks there have been clashes between militias in some parts of Libya.
Amnesty said at least 12 detainees held by militias have died after being tortured since September.
Their report was being released to coincide with the first anniversary on Friday of the revolt that toppled Libyan leader Muammar Gaddafi.
Last month the UN said about 8,000 pro-Gaddafi supporters were being held by militia groups.
The interim government has said it is trying to reassert authority, but correspondents say it has largely failed to rein in the groups.
'Steady progress'
Mr Cameron said: "The Libyan authorities are making steady progress towards a peaceful country and in coping with the terrible legacy they have inherited.
"There are undoubtedly years of hard work ahead, including disarming militias and building a new Libyan army. But the Libyan people have shown they have the vision and commitment to succeed."
The prime minister said: "We will continue to support Libya, especially to deal with the legacy of the Gaddafi era, to entrench the rule of law, and to prepare for the country's first elections for 40 years in June.
"It is the great achievement of the last year that the future of Libya is now firmly in the hands of the Libyan people."
Mr Hague said: "The UK shares the ambitions of Libyans for a stable, prosperous country based on respect for fundamental freedoms and human rights.
"Today we reaffirm the UK's commitment to supporting Libyans in realising their ambitions, strengthening our bilateral relationship and making progress on resolving the outstanding legacy issues arising from the actions of the Gaddafi regime."
Mr Hague also said he hoped the UK visa service would be resumed "shortly" to allow trade and other links between the two countries to flourish.
There are also plans to allow NHS staff to support the development of Libya's healthcare system, which could provide a boost for British private health companies.
He also announced an additional £1m aid to help with removing landmines in Libya.
Mr Hague said there were also plans to hold a conference in the spring focusing on human rights.