Uganda ministers Bumba and Makubuya resign after probe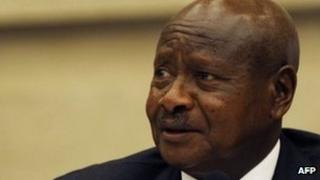 Two cabinet ministers in Uganda at the centre of a corruption scandal have resigned.
They agreed to step down after a parliamentary investigation found they had illegally paid out millions of dollars to a city businessman.
The payout was made when Syda Bumba served as finance minister and Khiddu Makubuya was attorney general
They are the latest casualties of an anti-corruption purge in Uganda that has seen four other ministers resign.
The businessman, a ruling party member, had won tenders to develop areas of central Kampala, but the deals were called off after protests from market traders who feared the developments would risk their livelihoods.
The BBC's Joshua Mmali in Kampala says the businessman was paid compensation, but when it became public knowledge that the amount was in excess of $60m (£38m), the Parliamentary Accounts Committee launched an investigation.
During the probe, the two ministers said it had been sanctioned by President Yoweri Museveni - which he denied.
The parliamentary committee's report, published this week, recommended that the ministers resign - and their decision to do so was announced to MPs by the deputy prime minister on Thursday.