Strolling to buy a lollipop in Mogadishu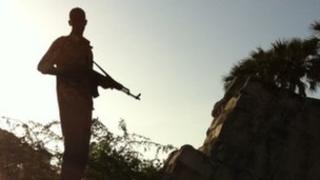 A traffic policeman. Pedestrians. Taxis. Crowded markets and cafes. An absence of constant gunfire. Mogadishu has changed dramatically.
It's six months since I was last in the Somali capital - a city then ravaged by famine, swarming with gunmen, and fought over by a lethal assortment of African Union peacekeepers, Islamist militants and clan militias.
I won't pretend this is anywhere close to "normal" now. The endless ruins are still packed with displaced families, and behind each busy street thousands of people remain camped out in the most wretched makeshift tents. More are arriving every day - fleeing the fighting and the uncertainty that continues to plague towns outside the capital. There are regular car bombings here too, and suicide attacks by al-Shabab - the militant Islamist group that was finally pushed out of almost the entire city late last year.
But the experience of walking through the now bustling city centre - we are still guarded, admittedly, by half a dozen gunmen - has made me appreciate why so many Somalis here, and so many governments abroad, are suddenly talking eagerly of a "window of opportunity" for a failed state that has spent two decades slouching from one catastrophe to the next.
Thursday's brief but high-profile international conference on Somalia in London is a reflection of - and belated investment in - that new sense of hope.
"Somalis are risk-takers and entrepreneurs. Their lives are restarting," said the city's deputy Mayor, Iman Icar, strolling past the ruins of Mogadishu's cathedral and buying a lollipop from a small stall. A crowd of young children watched us talking, and then switched their attention back to a football game being played in the courtyard of what was once an elegant colonial-era restaurant. "It's sad they are not in school," said the deputy mayor, who went on to call for "billions of dollars - a Marshall Plan," from the outside world to rebuild the city.
The sense of calm that has settled haphazardly, over Mogadishu could, of course, vanish very quickly. Somalia has a history of false dawns. The country's feuding elites, ably assisted by a succession of misplaced foreign interventions, have rarely squandered an opportunity to put clan, or region, or profit before reconciliation and stability. But as Somalia's chaos has started to spread - in the form of terrorism and piracy - the outside world has finally shown signs of more concerted interest.
Over the next few days I'll be reporting in more detail from this city. I've already spoken to the president of the transitional government and spent some time on the new frontlines outside Mogadishu with Ugandan peacekeepers. I'll also be looking at Turkey's sudden emergence as a key foreign player here - its officials, aid groups and businesses establishing a significant presence in the city and putting many other nations to shame.