Nigeria school set alight in Maiduguri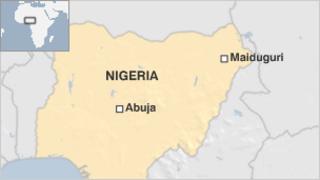 A primary school has been attacked in the north-eastern Nigerian city of Maiduguri.
Classrooms were set on fire overnight - the second non-denominational school to be targeted this week.
Reporters say it bears the hallmarks of an attack by the Islamist Boko Haram group, which has recently threatened to attack non-Islamic schools.
Boko Haram, whose name means "Western education is forbidden", wants to establish Islamic law in Nigeria.
It has been responsible of a series of deadly attacks and assassinations across northern Nigeria in the past 17 months.
The education officer for Borno state said two classrooms were completely burnt down overnight and other buildings at the government-run school were still alight on Thursday morning.
He told the BBC Hausa Service that gunmen held the school's security guard hostage as four men entered the premises to start the fires.
The gunmen then prevented residents living nearby in the suburb of Budum from putting out the blaze.
Earlier in the week, another government school, in Kolumgna suburb, was targeted and four classrooms were destroyed.
The BBC's Bilkisu Babangida, formerly based in Maiduguri, says both areas are strongholds of Boko Haram in the mainly Muslim city.
Boko Haram first came to prominence in 2009 when hundreds of its followers were killed when they attacked police stations in Maiduguri - the group's base.
Its founder, Mohammed Yusuf, was arrested but died in police custody.
In 2010 the group started to stage drive-by shootings on government targets in revenge for his killing.
Last year, it carried out suicide bombings on high-profile targets such as the headquarters of the UN and police in the capital, Abuja.