South Africa Mandela: Praying for the 'big man'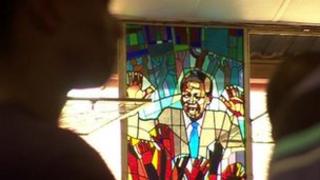 Nowhere will there be greater relief that Nelson Mandela has been discharged after his second hospital stay in just over a year than among the worshippers at Soweto's famous Regina Mundi church.
At an emotional and packed Mass on Sunday morning, Father Benedict Mahlangu spoke for the whole congregation.
"We are all concerned about his health," the priest said, adding that everyone knew the role he played in the nation and was praying for him.
Regina Mundi is a large and striking church in the heart of what, in the days of apartheid, was South Africa's biggest black township.
If Soweto itself was synonymous with anti-apartheid protest, Regina Mundi was often at the forefront of campaigning.
In the turbulent 1980s, we journalists would frequently find ourselves at public gatherings in or around the church - or reporting on confrontations between police and protesters.
'Battlefield' church
In 1997, seven years after his release from 27 years of imprisonment, Nelson Mandela spoke at the church.
He described it as "a battlefield between the forces of democracy and those who did not hesitate to violate a place of religion with tear gas, dogs and guns".
Nelson Mandela's image is set in a stained glass window on one side of the church.
In the pews beneath the window, the bright sunlight shone through on to worshippers praying for him.
At the end of the Mass, Fr Mahlangu said people attending this church always felt close to Nelson Mandela.
The priest also said he believed it was very important that the authorities told the nation the truth about Nelson Mandela's condition and about what was happening to him "so we can pray for his needs to be met".
But he also believed it was good that the government was trying today to encourage an atmosphere of quietness around Mr Mandela, particularly so that those closest to him could support him properly.
'Our big man'
And as they left the church, worshippers echoed Fr Mahlangu's view of the continuing role played by Mr Mandela, despite his age and frailty.
Tom Nakeni said everyone worried about him and had come to church today to ask God for forgiveness and for Nelson Mandela's quick recovery.
"We need him... and the world needs him," Mr Nakeni said.
Phumelele Mbatya said: "That's our big man, and he did us proud."
In South Africa, none of this comes across as hyperbole.
So many South Africans see Nelson Mandela as representing the soul of the nation, and will probably do so long after his eventual passing.