African viewpoint: Are birthdays overrated?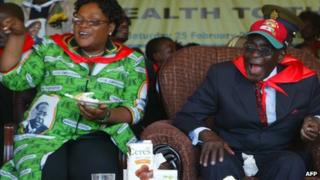 In our series of viewpoints from African journalists, film-maker and columnist Farai Sevenzo makes the case for swapping our obsession with birthdays - for "deathdays".
Each and every one of us who loves life shall die - so goes not the most cheerful of African proverbs.
But it's there to remind villagers from everywhere to keep their feet on the ground and remember that life is not eternal.
Rather it is the reverse, and so they should cram all they can into their brief spell on earth and keep their affairs in order.
But, being the creatures we are, we often forget this - and rely instead on celebrating our miniscule time on earth in all manner of grandiose styles.
Dear Leader
Even as the earth struggles under the weight of around seven billion humans - and we worry about overcrowding and depleted resources - scientists say the figures for living folk are still dwarfed by the numbers of those who have died over many centuries.
And what does that prove?
It proves to me that not only were all those birthday presents I have given to people over the years a waste of time and money - and not just because I know I give far better presents than I receive - it is also because our obsession with birthdays would mean more to the living if we swapped them with "deathdays" - marking the anniversaries of someone's passing away.
Then those who live on after us would thank us on our day of departure.
But it is life people would rather celebrate.
And so we swing on this birth-to-death pendulum, under the illusion that it could all last as long as we will it to.
And when it comes to powerful men this pendulum takes on a special significance.
If, for instance, you were born a North Korean citizen, you may well have imagined that your own birthday was far less relevant than that of the Dear Leader.
And you may have witnessed the great state occasion of Kim Jong-il's funeral last December, when thousands wept in the snow at his untimely passing aged 69.
But come 16 February 2012, you and perhaps your own elderly parents were back in the capital Pyongyang celebrating the 70th birthday of the dead Dear Leader as balloons and fireworks filled the air.
Showcase celebration
And if you were born a Zimbabwean citizen you may well have been celebrating your leader's 88th birthday and the great milestone he has reached - of becoming the oldest head of state in the Africa.
As regular as the seasons, 21 February has marked Robert Mugabe's birth with the kind of celebrations he ought to be having with his own lovely family.
But in reality these are not the family occasions when a man can complain to his wife that she got him the same dull tie two years ago and the children are encouraged not to spend their pocket money on gifts he neither likes nor needs.
But a president does not spend his special day with his mother, wife and kids - because his special day becomes a full-on political event, a showcase celebration of the man and his longevity that is as far removed from the president's birthday as the dead are from the earth.
To begin with, the state spends money it has - or has solicited from the shrinking rich - on a gala event that may include a beauty pageant, a football competition called the Bob 88 Super Cup, cake and a free lunch.
What's left of the nation's industry dutifully fill the newspapers with birthday advertisements for the lucky octogenarian - wishing him all the best for his happy day and wishing him many more.
Meanwhile, top musicians entertain, acrobats jump through hoops and the ruling class gather in much the same way as they do for important ruling party conferences.
The nation listens to a speech where the old man rails against imperialists and urges the youth to "go to the imperialist and smash his brains out".
Or he rubbishes the NGOs and their "pro-Western agenda" and, of course, repeats his much publicised disdain for gay rights - and tells those Western leaders campaigning for such rights in Africa to "go to hell".
Then he plays the comedian and tells his audience: "I can't even call David Cameron a dog because my own dog will complain and say what have I done?"
And - like clockwork - the world's media will run and run with "Bully's Birthday" headlines - and change little on the ground because for some presidents there is no such thing as bad publicity.
Thousands climb electricity pylons to hear him speak, and youth movements from Angola, Sudan, Tanzania, South Africa and Namibia will have been among the invited guests.
A week of celebrations will see him dominate his own airwaves by opening up to a hand-picked interviewer on television, and drop fascinating titbits of information about his youth and upbringing in a fog of unchallenging questions - the equivalent of birthday kisses.
And, through this, the nation learns the president is as fit as a fiddle, that he can still go some distance and - oh yes - he intends to fight another election.
And so that day in 1924 that threw him on his path to destiny will be milked for all its worth.
Of course there is nothing new in such a tale of earthly longevity - the Senegalese have Abdoulaye Wade, the Gabonese had Omar Bongo and we could go on and on about the birthdays of a select few.
In the meantime, there was minor panic in South Africa when a 93-year-old man called Nelson Mandela was admitted to hospital for a regular abdominal procedure.
The world's media are expecting a major fight over the television rights for his funeral. Even in their relief that that particular old man is well for now, the preparations are underway - and the air routes to South Africa may well soon be busier than a sky darkened by descending vultures.
For the select few, there is little privacy or dignity in birthdays - or deathdays.
If you would like to comment on Farai Sevenzo's column, please do so below.