South Sudan to disarm cattle gunmen in Jonglei state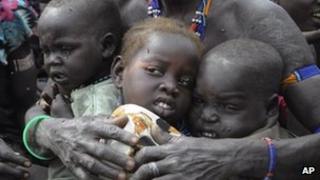 Sudan Sudan is to begin the disarmament of rival cattle-herding groups in Jonglei state this week, by force if necessary, the army has said.
Some 12,000 soldiers and police are deploying to collect an estimated 30,000 weapons from Jonglei civilians.
Last year, 1,100 people died in clashes between the Lou Nuer and Murle communities and tens of thousands have been displaced in fighting this year.
The two groups have a long history of stealing each other's cattle.
The violence tends to start as cattle raids and then spirals out of control, leading to revenge retaliatory attacks.
South Sudan, which gained independence from Sudan last year, is awash with small arms after decades of civil war that ended in 2005.
News of the disarmament programme came as South Sudan accused Sudan of bombing an oil installation in its territory.
The attack has not been independently verified, but the US has said it is alarmed by the reports.
"Such incidents are unacceptable and threaten to escalate tensions between the two states," US state department spokeswoman Victoria Nuland said in a statement.
Sudan has denied the claim, saying it does not attack across international borders.
'Fed up with weapons'
Six months after South Sudan's secession, the authorities declared Jonglei a national "disaster area" following the most recent clash over cattle.
Some 6,000 Lou Nuer warriors descended on the Pibor district to attack the Murle in retaliation for a deadly raid last August.
The UN has been unable to verify the number of deaths, but survivors spoke of seeing hundreds of bodies after scorched-earth attacks in which villages were burnt to the ground.
Some 80,000 heads of cattle taken from Murle areas by the men, the UN says.
"The people of Jonglei are fed up with these weapons," South Sudan's military spokesman, Philip Aguer, told the BBC's Focus on Africa programme about the disarmament operation.
"We are not expecting resistance, but if anyone fires at the army, that is a different story," he said.
Last week, the UN warned that disarmament may increase tensions in the state.
"Jonglei's rival communities are wary of relinquishing their weapons, regardless of government promises to carry out disarmament simultaneously in each area," the UN Office for the Co-ordination of Humanitarian Affairs said in a statement.
Water well destroyed
The BBC's James Copnall in Khartoum says South Sudan's first months as a new country have not been easy.
Cattle vendettas are common in many regions as are other clashes between rival groups.
But our reporter says it is especially in its relations with Sudan that tensions have been most fraught.
The two are locked in a bitter row over oil, with the south shutting down production after accusing Khartoum of stealing some of it.
On Thursday, South Sudan accused its northern neighbour of dropping bombs on Panakuat, near the border.
Mr Aguer told the BBC he believed there had been casualties but he did not have precise details.
He said the bombs dropped from two planes destroyed a water well, and also hit oil installations.
Oil has leaked into a water source, depriving a village of drinking water, he said.
South Sudan believes it was a deliberate attempt to target the oil wells.
Our correspondent says Panakuat is near the part of South Kordofan in Sudan where rebels are fighting the Sudanese government.
Khartoum accuses South Sudan of supporting those rebels, and also of sending troops into region to fight the Sudanese army, which Juba denies.