South African 80-year-old 'no fines' driver honoured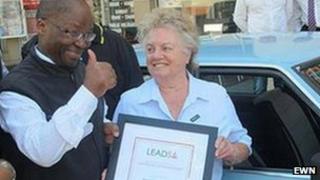 An 80-year-old South African motorist has been praised as a "sterling example" in a country with one of the world's worst road safety records.
Hazel Souma, from Cape Town, got her driver's license 62 years ago - and has not received a single traffic fine.
Handing her a certificate, Transport Minister Sibusiso Ndebele called for stricter punishments for people committing traffic offences.
More than 40 people are killed on South Africa's roads every day.
Unblemished
Ms Souma put her spotless record down to being a cautious driver and making every effort to obey the rules of the road.
"Ms Souma's unblemished driving record and sterling example is proof that we can put an end to the carnage on our roads," Mr Ndebele said.
"It cannot be considered normal that every day more than 40 people are killed on our roads, most of which could have been avoided," he said, welcoming.
Over the past five days, more than 36 people have died in separate road crashes across the country.
More than 3,000 traffic fines were issued across the country last month, according to the transport department.
Almost 7,000 drivers were arrested in the same period, including close to 2,000 for drinking and driving, it says.
This week, a motorcyclist was caught driving at 220km/h (135mph) in a 120km zone.