Portugal deal on Mozambique's Cahora Bassa dam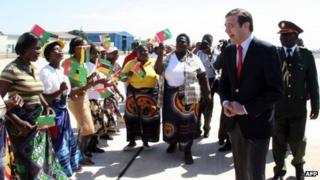 Portugal has agreed to give up its remaining stake in a giant hydroelectric dam in Mozambique, ending a long-running dispute.
Portugal, the former colonial power, had retained control of the Cahora Bassa dam after Mozambique became independent, but gave up most of its stake five years ago.
The Portuguese Prime Minister, Pedro Passos Coelho, signed the deal on a visit to Mozambique.
The dam is on the Zambezi River.
It is a vital source of electricity for Mozambique, South Africa and Zimbabwe.
There were decades of wrangling between the African country and its former colonial ruler over who should pay for damage to the dam in the war of independence and the subsequent civil war.
The BBC's Alison Roberts, in Lisbon, says the sense of urgency in Portugal to resolve the issue had increased sharply in recent months, as it is under pressure from international lenders to privatise state assets.
She says Portuguese companies are also eager to do business in what is one of the world's fastest-growing economies, at a time when Portugal itself is in deep recession.