Sudan civil servants told to 'donate' wages to pay for conflict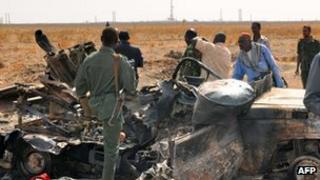 Sudan's government has ordered its civil servants to donate part of their salaries to support the army, according to the official state news agency.
Sudan's finance minister Ali Mahmud al-Rasul has also cut the petrol rations of government departments by 50%.
The measures follow clashes in which the Heglig oilfield was occupied by forces from neighbouring South Sudan.
South Sudanese forces held the oilfield for 10 days, and oil production facilities were damaged.
Both sides have blamed each other for the damage to the oilfield.
Heglig
State employees in Sudan have been told they must sacrifice two days' pay to help bridge a gap left by the loss of oil supplies and revenue from Heglig.
The field normally produces around 50,000 barrels of oil a day, which is all used for domestic consumption.
Analysts say the measures are a sign that Sudan's economy has been badly hit, both by the loss of revenue from when South Sudan became independent last year, and by the recent clashes between the two nations.
Sudan declared last Friday that its army had forced Southern soldiers out of Heglig.
But the South Sudanese President Salva Kiir had already announced his troops were conducting "an orderly withdrawal", which was completed on Sunday.
South Sudan became independent after a civil war that lasted two decades and in which an estimated 1.5 million people were killed.