Fleeing from Sudan's Nuba Mountains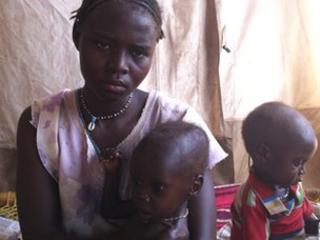 They arrive here in small groups - mothers with belongings balanced on weary heads, often carrying a baby too, with a few children dragging tired heels as they struggle to keep up.
The families' water buckets are usually empty after days - sometimes weeks - trekking through the searing heat.
On Wednesday, 616 people reached the Yida refugee camp in South Sudan - the highest number yet recorded - escaping hunger and conflict across the border in South Kordofan, a bitterly contested region of Sudan better known as the Nuba Mountains.
"Hunger," was all 15-year-old Gisma Kafi could muster, sweat beading on her forehead, as she put down the pots and bedding she had been carrying on her head. "We ate bark and leaves," she added, after catching her breath.
Gisma joined a bedraggled crowd slumped on the dry earth outside a straw hut where South Sudanese officials registered each new arrival and weighed the younger children - some with distended bellies and painfully thin limbs.
"When they arrive, the children are very sick due to malnutrition and complications. Every day we are receiving more and more. Others are dying on the way," said Mohammed Sadik, a nutritionist working with the US aid organisation Samaritan's Purse.
Halima Haroun, 30, who arrived two days ago after a 14-day walk, appeared to speak for most of the refugees when she explained why they had decided to abandon their villages in the Nuba Mountains and the nearby caves where many had spent months hiding.
"The Antonovs [Sudanese military planes] bomb us every day. We could not go to work, or to the fields. A bomb killed my husband," she said.
"There are no schools, and no food. I had to leave behind my two youngest children because they could not manage the journey."
More than 23,000 people now live at the Yida camp, and that number is likely to rise sharply in the coming weeks before the annual rains turn the hard earth into swamps and make all movement impossible.
"We are concerned. We're pushing against the clock to get enough food in for the rainy season," said the World Food Programme's Geoff Pinnock, roaming through the camp to check on the new arrivals.
He said he was confident they would be able to feed people at the camp, but was more worried about those remaining inside the Nuba Mountains.
"We're reaching them here. What we are concerned about is the condition north of the border. Over the last two weeks we've seen an increase in the number of arrivals and a deterioration in the conditions of some of those arriving - we're seeing… more people in a relatively bad state of malnutrition."
Mr Pinnock said the conflict was "certainly disrupting livelihoods - they wouldn't be here if they were able to plant crops".
Multiple accounts from refugees and others still inside South Kordofan appear to confirm that the Sudanese military - particularly through its bombing campaign - is seeking to target, terrorise and displace civilians as part of a wider, but currently floundering, attempt to defeat the rebel SPLM-N forces and reassert control.