African viewpoint: Last of the Nuba?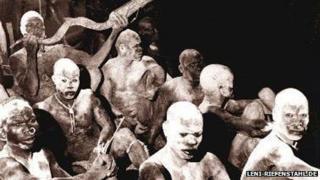 In our series of viewpoints from African journalists, film-maker and columnist Farai Sevenzo considers level playing fields and what the crisis between Sudan and South Sudan means for the Nuba people who are caught up in the middle of the conflict.
When Leni Riefenstahl published her pictorial masterpiece, The Last of the Nuba, back in 1974, she had spent many years among the Nuba in Sudan's remote central valleys, committing to moving and still films the lives of these Africans and their disappearing way of life in the face of encroaching modernity.
The images are of staggering beauty - despite having been captured with the kind of anthropological voyeurism of a bygone age - and highlight a strength and dignity in parts of our continent that have been vanishing as we have been growing.
Ms Riefenstahl's images of the Nuba did not erase from memory her work as Adolf Hitler's favourite filmmaker, but managed to rehabilitate her as an artist, and all African artists should be grateful for what she has managed to preserve for eternity.
I was flipping through my copy of the Last of the Nuba just the other day as the news began to warn of impending war between Sudan and South Sudan and wondered how wrong the observers of the past were in imagining that the Nuba were in danger of vanishing from the onslaught of civilisation.
President Omar al-Bashir's Khartoum government has never had any qualms about speaking with a forked tongue - agreeing to a referendum for independence while undermining it, supporting the birth of South Sudan on 9 July 2011 and never agreeing to what determines the borders - and has now totally removed the mask of diplomacy with the president being recorded in firebrand speeches that brand the South Sudanese leadership as "insects to be crushed".
And while we are all familiar with the base and unimaginative language of genocide, it may come as a total surprise to some of us that Khartoum's militant tendencies have seen Antonov planes and drones bombing large sections of non-Arab Sudan, that the Nuba of the 21st Century have been cowering in caves to escape the bombings and that thousands are making their way to South Sudan daily in search of refuge .
Long wait
All over the world there are conflicts in which the weak are pitted against the outrageously strong and the world's systems of retrospective justice give us the kind of verdict we saw against Charles Taylor at the UN-backed court at The Hague the other week but all this remains oddly unsatisfying.
Certainly Taylor may been found guilty of aiding and abetting the conflict in Sierra Leone but nothing has been said about his crimes in Liberia.
And those waiting for Mr Bashir to be arrested for his crimes in Darfur may have a long wait.
No African country has been willing to arrest him - and those of us watching the video evidence of indiscriminate bombings of schools and villages way beyond Darfur wonder when the justice police will add the other alleged war crimes to Mr Bashir's charge sheet and whether or not it will make a jot of difference.
Malawi will host an African Union summit in July and their new leader, Madame President Joyce Banda, has called on the AU to decide Mr Bashir's position.
Back in October 2011 Mrs Banda's predecessor, Bingu wa Mutharika, openly defied the International Criminal Court by welcoming Mr Bashir to Malawi and ignored the ICC's ridiculous threats of reporting his country to the UN Security Council.
That made Malawi, Kenya, Chad and Djibouti stand out as those who had refused to arrest Mr Bashir and whose names have been "reported" to the Security Council.
The African Union has told its members to ignore the ICC's warrant of arrest as it only targets Africans, and on current evidence, that is a difficult point with which to argue.
Mrs Banda, though, found a perfectly reasonable defence for wanting Mr Bashir to stay away.
"Malawi is already going through unprecedented economic problems and… it would not be prudent to allow one person to come and attend the summit against much resistance from our co-operating partners and donors," she told journalists in Lilongwe.
"Such kind of decisions cost us the USA Millennium Challenge Co-operation. At the end of the day Malawi will have to seriously take into consideration the economic repercussions of hosting President al-Bashir in Malawi."
And we learn that Malawi lost $350m (£217m) for an energy boost co-operation which was withheld by Washington last time Mr Bashir came calling.
So what does this tell us besides the fact that the playing field is never level, even in the case of our political criminals?
It says that the Nuba have some way to go for justice when they just want the bombs to stop, that the ICC's close proximity to the Security Council dilutes its authority, that justice served by paying witnesses as is alleged in the Charles Taylor case, may be as futile as bribing small nations like Malawi into arresting an African leader for more aid funds.
If you would like to comment on Farai Sevenzo's column, please do so below.