Bombs kill Somali soldiers in Mogadishu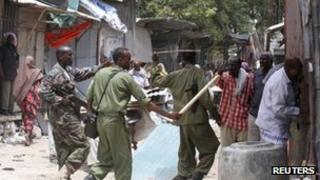 Somali government soldiers are among five people killed in two bombings in the capital Mogadishu, attacks blamed on al-Shabab Islamist fighters.
A bomb planted under a tree in the north of the city killed at least three soldiers and one pedestrian, security officials said.
In the other attack, a bomb, possibly a grenade, killed at least one person in Bakara market area.
Al-Shabab has continued attacks since retreating from view last year.
Outside the capital, it still controls huge swathes of the country.
Government and African Union troops control Mogadishu while most of the rest of the country is under Islamist control.