African viewpoint: Nigeria's dialling dilemmas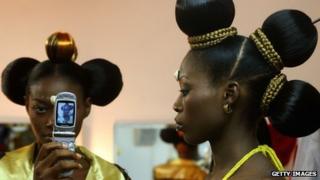 In our series of viewpoints from African journalists, writer Sola Odunfa considers the difficulty of making a phone call in Nigeria.
If you must make a call to anybody's mobile phone in Nigeria, you need to be understanding and patient - it can be a very frustrating and annoying experience.
In the first place, it takes luck for the call to get through, and when both parties are connected, there is no guarantee that you will hear each other or that the line will not drop after a few seconds.
A conversation which normally should not last two minutes may after several calls take 10 minutes and, believe me, both of you will pay for every second.
Being very practical people, Nigerians have devised a way, though expensive, to ease the problem.
Why wait for government regulators who are believed to be more interested in the huge after-profit taxes accruing from the networks than the satisfaction of subscribers?
So everyone who can afford it has a minimum of two mobile phones from different operators.
Some have as many as four. They use whichever is operational at any given time.
We, the ignorant majority, would have thought that the networks would be restricted to the number of subscribers they can serve efficiently at any given time but, no, the experts who have all the wisdom disagree.
The networks continue rolling out new lines, spreading frustration and dancing all the way to the bank daily.
Difficult environment?
Early this year, the Nigerian Communications Commission decided to listen to subscribers.
It warned that it would soon begin to penalise networks it might find wanting.
The hammer fell in early May on the country's four leading operators - MTN, Glo, Airtel and Etisalat.
They were fined between $1m (£634,000) and $2m each for allegedly falling below quality standards in the months of March and April this year.
The penalties may appear stiff in monetary terms, but we are talking here of an industry which reins in billions of dollars annually.
Published reactions of officials of some of the companies so far do not offer promises to improve quality of service.
There are all excuses for bad performance: Bad roads, poor public electricity supply, local taxes and occasional sabotage.
Listening to them, one would conclude that the business environment in Nigeria was unbearably hostile, yet they keep expanding and they cart away more profits.
Rotting landlines
In the face of this poor quality of service, the leading networks in Nigeria have not only diversified, but are also paying more attention to internet services.
They are aggressively marketing high-brow smart phones for business solutions, leaving their millions of other subscribers to choke on their cheap phones.
As they have been unable to provide service on ordinary phones, I wonder how they can cope with phones which have gone "smart".
Other African countries need to keep an eye on the telecoms development in Nigeria so they do not fall prey to the sweet talk on new technology.
When Nigeria introduced the GSM (global system for mobile communication) network, it threw away its land-based system. Everything was now to be GSM.
The discredited national telecoms company was stripped down and advertised globally for sale; 10 years on, there are no buyers on the terms the government has laid.
The equipment is rotting away, yet the country needs the system.
Experts now say that no country can do without landlines because there is much one can do through them - like delivering broadband - that cannot be done by the mobile network.
I know nothing about the comparative technologies, but all I ask is that somebody gives me a real telephone that is a simple instrument which I can use to make and receive calls.
I'll find a computer when I need one.
If you would like to comment on Sola Odunfa's latest column, please use the form below.