Thousands of Sudanese 'flee to South Sudan'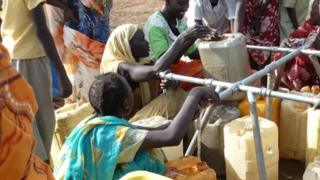 Up to 4,000 people are fleeing into South Sudan every day to escape fighting in Sudan's Blue Nile province, according to medical charity Medecins sans Frontieres.
MSF told the BBC that about 30,000 people were now in makeshift shelters just inside South Sudan.
Three giant refugee camps further south are already hosting 70,000 others.
They are fleeing fighting between Sudan's army and rebels in the country's south.
They bring with them tales of attacks by air and land by the Sudanese armed forces.
Jean-Marc Jacobs of MSF said many of the refugees who make it across the border are in a terribly weak condition, and some of the frail and elderly had to be abandoned along the way.
"Many of them arrive very tired, they've walked for usually more than two weeks," said Mr Jacobs.
"They've seen people around them injured or too exhausted to continue so they leave them along the road. So this can only get worse if the influx of refugees keeps going at this rate."
MSF believes tens of thousands of other people are waiting to cross the border.
But the camps run by the United Nations refugee agency are already stretched to breaking point, have inadequate water supplies and making room for the influx will be hard.
With the rains having begun, getting access to this isolate region is becoming increasingly difficult.
Rebel alliance
The rebels who are taking on the government in Khartoum are the Sudan People's Liberation Movement-North (SPLM-North).
They see themselves as continuing in the footsteps of the movement from which they sprang, the SPLM of the late John Garang, which now runs the newly independent state of South Sudan.
When independence came in July last year, many SPLM forces in Blue Nile and South Kordofan were left stranded in Sudan.
Fighting is vicious, with refugees describing how they were bombed from the air, with markets being a particular target.
This is likely to intensify as the SPLM-North has concluded an agreement to link up with three rebel movements fighting in Darfur.