Nigeria violence: Pope Benedict XVI calls for peace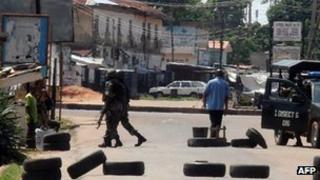 Pope Benedict XVI has used his weekly address to an audience at the Vatican to call for an end to "terrorist attacks" against Christians in Nigeria.
Suicide bombings of three churches in Kaduna state on Sunday, claimed by militant Islamist group Boko Haram, killed at least 16 people.
Revenge attacks between Christians and Muslims in Kaduna and Damaturu have killed dozens more.
The Pope urged Nigeria to build "a peaceful and reconciled society."
Speaking at the Vatican, Pope Benedict said: "I am following with deep concern the news from Nigeria, where terrorist attacks are continuing, especially against Christians.
"I appeal to those responsible for the violence to immediately stop spilling the blood of innocent people."
He urged Nigerians to "to cooperate in the construction of a peaceful and reconciled society in which the right to freely express faith is guaranteed."
Nigeria's main Christian body has said the attacks on churches suggested a "systematic religious cleansing".
The Nigerian authorities on Tuesday imposed a curfew in the north-eastern city of Damaturu, and reinstated a Kaduna state-wide ban on movements.
According to Reuters, at least 80 people have been killed in clashes in Kaduna and Damaturu since Monday.