South Sudan anniversary: Salva Kiir focuses on economy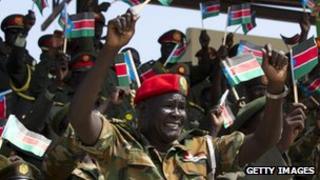 South Sudan's President Salva Kiir has said the world's newest country needs to be "independent economically" in his speech to mark the first anniversary of its independence.
Thousands of people danced and waved flags during official celebrations in the capital, Juba.
The BBC's Nyambura Wambugu, in Juba, says that few South Sudanese have seen much improvement in their lives.
But she says that most feel it has been a good year, despite the problems.
Our correspondent says it has also been a turbulent 12 months, with ethnic conflict in Jonglei State killing hundreds, conflict on the border with Sudan and a huge corruption scandal.
'Short man from Khartoum'
Mr Kiir told the crowd: "We still depend on others. Our liberty today is incomplete. We must be more than liberated. We have to be independent economically."
The official celebrations saw a military parade, featuring tanks and rocket launchers, while two helicopter flew South Sudan's flag over the heads of the cheering crowds.
UN head Ban Ki-moon had been expected but did not attend, reports the AFP news agency.
In a speech read on his behalf, Mr Ban said: "A lot has been achieved since independence, but a lot also needs to be done."
Uganda's President Yoweri Museveni said his country would support South Sudan in its struggle with "the short man from Khartoum" - seen as a reference to Sudan's President Omar al-Bashir.
Sudan's leader attended the independence celebrations a year ago but the two neighbours have since fallen out and Mr Kiir said Mr Bashir had declined an invitation, AFP reports.
When South Sudan seceded, it took 75% of the country's oil with it.
But the pipelines still run through Sudan and the former civil war enemies cannot agree on how much the South should pay in transit fees.
The dispute led South Sudan to cut off all oil exports, triggering a collapse in government revenues and tough austerity measures.