Three Algerian diplomats freed by Mali rebels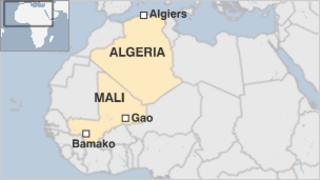 Three Algerian diplomats kidnapped by Islamist militants in Mali have been released, Algeria's Foreign Minister Mourad Medelci has said.
Seven diplomats were abducted in April after the Algerian consulate in Gao, northern Mali, was raided by militant groups, some of which are accused of having links to al-Qaeda.
Mr Medelci gave no details about the other four citing "their own security".
Tuareg rebels and the Islamists took control of northern Mali after a coup.
The army seized power in Mali in March, accusing the elected government of not doing enough to halt the National Movement for the Liberation of Azawad (MNLA) and the Islamist groups.
But the rebels took advantage of the army's disarray to seize the whole of the north - an area the size of France.
Al-Qaeda's north African wing, al-Qaeda in the Islamic Maghreb, has its roots in the 1990s Algerian Islamist insurgency.