Africa's proverb of the day
30 January 2015

From the section

Africa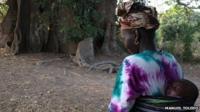 Proverbs are an integral part of African culture. Passed on from generation to generation for centuries, they are still in wide use today and are very much part of everyday speech.
Proverbs are used to illustrate ideas, reinforce arguments and deliver messages of inspiration, consolation, celebration and advice.
The great Nigerian author Chinua Achebe once wrote: "Proverbs are the palm oil with which words are eaten."
Use the Have Your Say link below to send in your wise words.
Your proverbs from the last few months:
Friday 30 January
The lizard said he would have loved to sit down but for the slight inconvenience of its tail. Sent by Uzoma, London, UK
Thursday 29 January
The torture of the grave is known only to the dead. A Swahili proverb sent by Layla, Pretoria, South Africa
Wednesday 28 January
A cow may refuse to give to the milking jar but it cannot refuse to contribute to the cooking pot. An Oromo proverb from Ethiopia sent by Tesfaye Regassa, Munich, Germany
Tuesday 27 January
The one who suffers from diarrhoea is the one that fights with the door at night. Sent by Mwiya Mundia, Lusaka, Zambia
Monday 26 January
A foolish person runs from the rain when the rain has already soaked him through. An Igbo proverb sent by Emeka E Emma, Enugu, Nigeria
Friday 23 January
A person stronger than you can beat you with your own stick. A Runyankore proverb from Uganda sent by Sabir Khamis Gbuku, Yambio, South Sudan, and Valerie Kebirungi Amgbu, Halifax, Canada
Thursday 22 January
A good action reaps another. A Kikuyu proverb sent by Jesuis John, Kenya
Wednesday 21 January
Just because the father eats honey it does not mean the son's mouth is sweet. An Oromo proverb from Ethiopia sent by Jamal L Elmii, Saint Paul, Minnesota, US
Tuesday 20 January
To benefit from a nursing mother's kindness, you must be willing to babysit for her. A Shona and Ndau proverb sent by Tsitsi Muza, Harare, Zimbabwe
Monday 19 January
If the chicken's egg cracks the palm kernel, the grinding stone is put to shame. An Igbo proverb sent by Oluwamayowa Tijani, Ibadan, Nigeria
Friday 16 January
You become wise when you begin to run out of money. Sent by Kenneth Opare-Obuobi, Nyankpala, Ghana
Thursday 15 January
Even the big baboon curls its tail to win the respect of the little ones. A Shona proverb sent by Beth Chitekwe, Harare, Zimbabwe
Wednesday 14 January
Starting early is better than seeking a medicine man later. A Luo proverb sent by Owino Onyango Mak'Oburu, Kenya
Tuesday 13 January
It is women who make some men succeed where others fail. A Somali proverb sent by Hussein Mohamud, Nashville, US
Monday 12 January
The rat said: "If I had not been denied food, would I be stealing it?" An Igbo proverb sent by Chukwuemeka Ekere, Calabar, Nigeria
Friday 9 January
Dine with a stranger but save love for your family. An Ethiopian proverb sent by Martin Manyiel Wugol, Aweil, South Sudan
Thursday 8 January
When there is peace in the country, the chief does not carry a shield. Sent by Kasozi George, Kampala, Uganda
Wednesday 7 January
When you raise a leopard, you shouldn't be upset when it eats your goat. A Krio proverb from Sierra Leone sent by Sigismond Wilson, Oklahoma, US
Tuesday 6 January
If you want to catch a monkey, behave like one. Sent by Nd Osemeke and Motunde Badmos, both in Nigeria
Monday 5 January
No matter how drunk a rat is he doesn't go to sleep in a cat's bed. A proverb from Cameroon sent by Nganje Cheryl, Mannheim, Germany, and Zuobog Philip Neri, Hamile, Ghana
Friday 2 January
A hunter does not tell of everything he sees in the bush. Sent by Sonny Nwadike, Abidjan, Ivory Coast
Thursday 1 January
A fattened ox dwells with its butcher. An Ethiopian proverb sent by Kiflu Kenso, Dallas, US
Wednesday 31 December
You cannot convince a monkey that honey is sweeter than a banana. Sent by Abubakar Musa, Riji, Sokoto, Nigeria
Tuesday 30 December
Only a true friend will tell you that your breath smells. Sent by Moses Ebil Wang'koko, Mukono, Uganda
Monday 29 December
If you act like a ripe plum, bats will eat you. Sent by Lamar Gaye, Minnesota, US
Friday 26 December
It is not the load that breaks you down; it is how you carry it. Sent by Effiong, Calabar, Nigeria
Thursday 25 December
Pride is no substitute for a dinner. An Ethiopian proverb sent by Dibora Elias Kemal, Springs, Gauteng, South Africa
Wednesday 24 December
Pretty calabashes sour the beer. A Shona proverb sent by Givemore Matanda, Johannesburg, South Africa
Tuesday 23 December
Maize matures for people without teeth. A Lugbara proverb sent by Martin Ajobe, Arua, Uganda
Monday 22 December
Silence is also a form of speech. A Fulani proverb sent by Abubakar Musa, Sokoto, Nigeria
Friday 19 December
When you don't get along with a hunter in town, don't follow him to the bush. A Krio proverb sent by Jimissa Koroma, Freetown, Sierra Leone
Thursday 18 December
A mother who is a thief doesn't trust her child. An Amharic proverb sent by Alemnew Mekonnen, Bahir Dar, Ethiopia
Wednesday 17 December
He who calls a dog should not carry a stick. Sent by Olekantse Sennamose, Paje, Botswana
Tuesday 16 December
A sugarcane is sweetest at the joint. Sent by Muwi, Mongu, Zambia
Monday 15 December
What the dog sees and barks at, the sheep has already seen and remained silent. A Yoruba proverb sent by Ifeanyi J. Maduka, Lagos, Nigeria
Friday 12 December
You cannot insult the whole village and exempt the village chief. A Fula proverb sent by Malick J Bah, The Gambia
Thursday 11 December
The father is a judge, the son a robber. An Amharic proverb sent by Mikias Eshetu, Addis Ababa, Ethiopia
Wednesday 10 December
The aggressive man ultimately encounters an even more aggressive man. A Somali proverb sent by M. Yusus, London, UK
Tuesday 9 December
Someone who denies you white ants saves you from dysentery. Sent by Alex Odul Ochol, Lira, Uganda
Monday 8 December
A child's fingers are not scalded by a piece of hot yam which its mother puts into its palm. An Igbo proverb sent by Garland Orhue, Edo state, Nigeria
Friday 5 December
A blind person knows his environment better than a sighted stranger. Sent by Silvester Katawala, Phalombe, Malawi
Thursday 4 December
When a goat gives birth where there are people it is seeking their support to keep the dogs away. A proverb from Zimbabwe sent by Vukile Bhila, Gloucester, UK
Wednesday 3 December
Lack of unity made the papyrus burn when there was plenty of water. A Runyankore/Rukiga proverb sent by Enfumu Zaitu Page, Uganda
Tuesday 2 December
Take the monkey's hand out of the soup before it starts looking like a human hand. An Igbo proverb sent by Didier Onovo, Banjul, The Gambia
Monday 1 December
A person who praises himself is like a goat that suckles itself. A Somali proverb sent by Yusuf, Knivsta, Sweden
Friday 28 November
However fat a rat may become it remains food for the cat. A Buganda proverb sent by Juma Innocent Stany, Uganda; Mako Alhamdu, Nigeria; and Brian Kwesiga Victor, US
Thursday 27 November
A camel can tolerate a heavy load, but not a crooked rope. Sent by Ismail Adam, Mogadishu, Somalia
Wednesday 26 November
The cow's hind hooves follow the front ones. An Acholi proverb from Uganda sent by Okot Ochan Emmy, Juba, South Sudan
Tuesday 25 November
If you are going to dig a deadly hole for somebody, dig it your size because you might be the one falling inside. A Hausa proverb sent by Nura El-rufai Mohammad, Kano, Nigeria
Monday 24 November
A fool brings the rope himself with which he will be bound. A Somali proverb sent by Hussein Mohamud, Nashville, US
Friday 21 November
If someone has bitten you, he has reminded you that you have teeth. Sent by Ann Lemaiyan, Kenya
Thursday 20 November
The guinea fowl never abandons its feathers. A Luo proverb sent by Kenyatta Otieno, Nairobi, Kenya
Wednesday 19 November
You shouldn't speak for one who is present. A Somali proverb sent by Muktar Timohele, London, UK
Tuesday 18 November
One donkey ate flour and all have whitened muzzle. A Bambara proverb from Mali sent by Yvon Atsiba, Quebec City, Canada
Monday 17 November
The ant said that he knew what it would be like for him in the rainy season; then used the dry season to gather his food. An Igbo proverb sent by Albert Ndubizu, Abuja, Nigeria
Friday 14 November
The tongue hasn't got a bone but it can break a bone. An Eritrean proverb sent by D Berhane, London, UK
Thursday 13 November
Slipperiness knows no king. Sent by Martin Mbeja, Mbale, Kenya.
Wednesday 12 November
A rat without an escape hole doesn't live long. Sent by Kosi Agassa, Osaka, Japan, and Angus Ikeji, Lome, Togo
Tuesday 11 November
A plantain is getting spoilt. We are telling each other it's getting ripe. A Yoruba proverb sent by Bill Peters, Nigeria
Monday 10 November
A blow which is inevitably yours, when earlier encountered, will extricate you from further hostilities. A proverb from Ghana sent by Joseph Ware, New York, US
Friday 7 November
There is no long road without corners. A Swahili proverb sent by Nicodemus Bura, Singida, Tanzania
Thursday 6 November
If you know how to pound, use the mortar; if not use the floor. Sent by Lucy Jones`, Kaduna, Nigeria, and Trust Odama, Abuja, Nigeria
Wednesday 5 November
Whatever has horns cannot be hidden in a bag. A Ndebele proverb from Zimbabwe sent by Thoman Sikowelo, Johannesburg, South Africa
Tuesday 4 November
Monkeys do not advise their young ones to be careful on trees. They just remind them of the distance to the ground. Sent by Geoffrey Kosgei, Nairobi, Kenya
Monday 3 November
Soap does not wash itself. A Wolof proverb from Senegal and The Gambia sent by Denrol Carayol, Stockholm, Sweden