South Africa's corruption crusader Thuli Madonsela
28 July 2012

From the section

Africa
"She's not a superwoman, she's just an ordinary person doing her job" is one anti-corruption campaigner's blunt assessment of Thuli Madonsela, the woman the press often calls just Thuli.
Her investigations have led to the sacking of some of the most senior figures in the state, most recently the country's former police chief, Bheki Cele, who was suspended over a property leasing scandal in 2011.
The softly spoken mother of two has become a one-woman corruption crusader.
David Lewis, chief executive of the newly launched campaign group Corruption Watch has described her as "South Africa's most important bulwark against corruption", who has inspired hope among millions of citizens looking for better service delivery.
Although her title of public protector may sound mundane, Mrs Madonsela has captured the imagination of South Africans and the media for her no-nonsense style and her ability to deliver.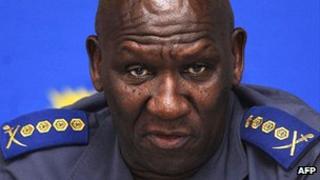 Add to that her credentials as a former lawyer in the trade union movement during the fight against white minority rule and her involvement in the drafting of South Africa's post-apartheid constitution, and she's earned the respect of the ruling African National Congress (ANC) party and opposition alike.
Our BBC documentary team has had exclusive access to Thuli Madonsela over the past few months, trailing her as she oversees some 14,000 investigations.
Our own probes have unearthed inflated water tenders in North West province, newly built schools without any furniture in the Eastern Cape and appalling sewage conditions in Bram Fischerville, Soweto. All of these are now being investigated by Mrs Madonsela's team.
"I don't remember it being this bad," Mrs Madonsela confided after we took her to Soweto, to see for herself the squalor of overflowing drains that have been left unattended for years.
Embodying hope
Wading through raw sewage in a smart set of high heels and wincing at the unidentifiable waste swirling at her feet, Mrs Madonsela described how she grew up in Soweto, the proud heart of the liberation struggle rule. And yet, "things were different then".
She accepts Justice Minister Jeff Radebe's argument that "300 years of colonial rule and 40 years of apartheid" cannot be corrected overnight, and that the seeds of corruption were sown long before the first post-apartheid elections in 1994
But, she says, if "visible action is taken" against corrupt officials now, then it sends the message to people that "if you are thinking about it - then don't".
In other countries, like Kenya, the task of rooting out corruption has been a lonely one. I first met anti-corruption tsar John Githongo when he fled into exile after he handed the BBC sensational tapes implicating very senior ministers in corruption back in 2005.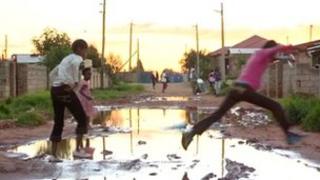 But in South Africa, the task of rooting out corruption is distributed among several agencies.
"It spreads the risk" - this is the assessment of Willie Hofmeyr, the deputy director of National Prosecutions, who says though a "great deal is being done now", he is "disappointed at the slow rate of progress".
The implication is that if one investigating agency gets cornered, another can still pursue a case.
South Africa has shown that, with a free press and independent courts, it still has a chance of winning the war on corruption, and in many ways, Mrs Madonsela embodies that hope.
Wounding enemies
The public protector has risen out of the bureaucratic morass to become a breath of fresh air for a South African public clamouring for more accountability from their public servants and leaders.
She has called for constructive dialogue rather than a repeat of recent rioting against poor services, and has been promised by ministers that despite past attempts to muddy her name, she will be allowed to do her job, whatever her investigations unearth.
With the ANC's national elective conference in Mangaung scheduled for the end of the year, the stakes are higher than ever.
Mrs Madonsela knows that corruption allegations can be used to wound political enemies.
In our film, Thuli's daughter, Wenzile, asks over the breakfast table: "How does it feel to be South Africa's biggest tell-tale?"
Thuli laughs and shrugs it off with a joke, but with four more years in the job, she knows that there are still many noses she could put out of joint.
Our World: Corruption Crusader by BBC's Southern Africa correspondent Karen Allen is broadcast on BBC World News on 28 and 29 July.